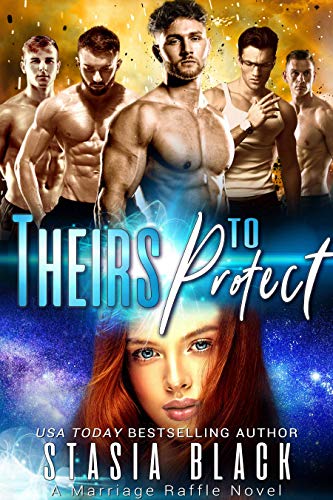 02/27/2022
In the New Republic, every woman must marry five men.
It's the law.
Welcome to the apocalypse.

Nix never put his name in the marriage lottery for a reason.
He doesn't need a woman.
There aren't that many to go around anyway after a genetically engineered virus wiped out 90% of the female population.
He has his job as head of the Security Squadron and it's all he need.
He looks out for the township. He protects the few women there are left.
But when his name is called to be one of the five husbands to the woman rescued from the badlands, he doesn't speak up to correct the error.
Because Audrey's like no one he's ever met before.
Fiesty. That's the name for her.
Not like so many of the women they've brought back before.
She's not broken. She might be just the woman to handle a rough, brutal man like him.
Sharing her with four other men is a small price to pay.
In fact, the closer they all grow, the more Nix realizes he might finally have again what he lost so long ago—a real family.
But when outside forces threaten everything he holds dear, Nix will be forced to face his deepest, darkest fear.
When Audrey's life is endangered, will he be able to save the woman he's just learned how to love?

NOTE: This book contains some dark elements and covers sensitive topics. Any reader that feels they shouldn't venture into this apocalyptic world of sometimes harsh realities should please consider before reading. This is a standalone novel in the now complete Marriage Raffle Series. Books in the series include: Theirs to Protect, Theirs to Pleasure, Theirs to Wed, Theirs to Defy, Theirs to Ransom.

In general, Science fiction or sci-fi, or SF, is a science fiction genre that generally deals with creative and innovative concepts like innovative Science and technology, space exploration, time travel, parallel universes, and extraterrestrial life. Sci-fi books take readers on experiences from faraway galaxies to underwater worlds and anywhere in between, introducing them to otherworldly technologies and characters on the way. So if you are searching for books written by focusing on Science and technology, you must add sci-fi to your reading list as this genre gives you a deep read with a wide range of books.
Famous Book Quotes
""Reading one book is like eating one potato chip."" ― Diane Duane, So You Want to Be a Wizard
View More