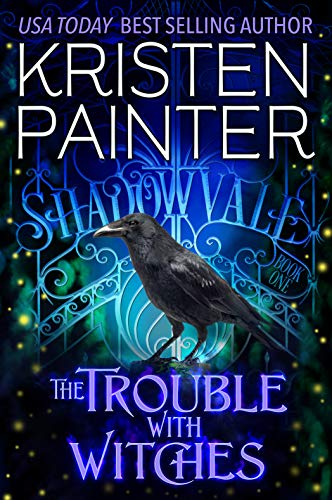 03/27/2022
Shadowvale isn't typical small town America. The sun never shines, the gates decide who enters, magic abounds, and every resident bears some kind of curse.

No one knows this as well as raven shifter Deacon Evermore, who, like everyone in his family, has a curse. While his position as Shadowvale's peacekeeper lets him use that curse for good, he'd rather live anywhere else. He stays for his family, but doubts he can last much longer.

Fledgling witch Emeranth Greer is determined to escape her past and make a fresh start in Shadowvale with the aunt she's never met. Her aunt and the town prove to be far better than she imagined. There's no way Em is leaving this magical place. Especially when staying means more time with the handsome Deacon.

But when Em's troubled past catches up with her and nearly destroys the romance budding between her and Deacon, her instinct is to run again. Except there's magic in the mix now and the town won't let her leave. Only Deacon can save her, but can a cursed man clear her name…or will her history destroy them both?

Digital Books





In general words, the paranormal literary fiction genre comprises beings and happenings beyond the world of normal scientific comprehension of the natural world. Novels in the fiction genre are all put in the actual world. However, they comprise experiences that defy scientific explanation. For instance, stories put on earth contain angels, demons, witches, psychics, witches, etc. If you love to read some books with ghosts and angels, you must add this category to your reading list. Many books available in the market come under the Paranormal Genre, and you can buy them online or offline.
Famous Book Quotes
"Books are a uniquely portable magic." ― Stephen King, On Writing: A Memoir of the Craft
View More