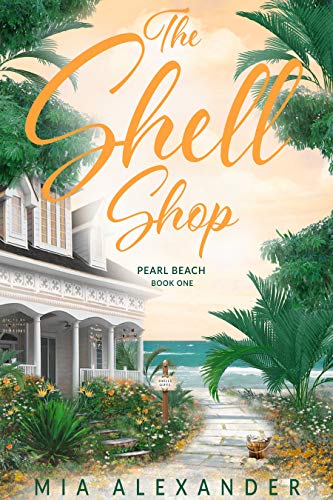 03/10/2022
Never in a million years did Julia Montgomery think she'd be alone in middle age, running the family shell shop on her own. But when her husband dies in a tragic diving accident, that's just where she finds herself. And now the Shell Shop is in danger, and along with it all of Julia's precious family memories.
Julia and her husband started the shell shop decades ago, before their now-grown children were born—he sold the rare shells he found on diving trips around the world and she got to raise their kids amongst the balmy breezes and waving palm trees. She left him to it—he had his own system and she knew nothing about shells. Her world was cooking, making sandcastles and snuggling with the kids. Their arrangement was perfect, until it wasn't. 
Now that John's gone, the bills are piling up and she can hardly bring herself to open the shop even though tourist season is fast approaching. Her eldest, Dillon, knows a bit about shells but doesn't seem interested in stepping up to help. He prefers diving and surfing to having a proper job. Her daughter Aubrey is having an identity crisis and has her hands full with Julia's beloved grandchildren. And the baby of the family, even in her mid-twenties, is struggling to make a go of it in a very difficult profession. 
With all of this on Julia's mind, she has to dig deep to figure out a way to keep the shop—and her home—afloat. When a world-famous shell collector expects a rare shell that her husband promised to provide, can the Montgomery family rally and figure out the method to John's madness and keep the shop in business? 
Escape into this feel-good beach series. You'll fall in love with the Montgomery family while you visit the warm sunny beaches of the Florida Keys!
This is Book 1 in a six-book series
In simple words, the novel penned by a Christian worldview, a way of viewing the world separated through the facts shown in the Bible, is called Christian books. It implies a sovereign God who made everyone and everything; it believes we are responsible to
God
for our decisions, promises, and activities; it feels we require forgiveness and redemption and that it comes only through the person of Jesus Christ. There are two types of Christian Books:
Christian fiction
Christian fiction books are those books that overtly display elements of Christianity in the story, mixing things like prayer, conversion, church.
Christian non-fiction
Christian non-fiction is normally overt in its use of Biblical beliefs to explain an appropriate subject.
Famous Book Quotes
"Think before you speak. Read before you think." ― Fran Lebowitz, The Fran Lebowitz Reader
View More