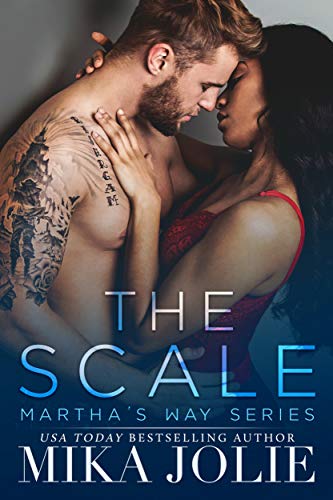 02/26/2022
Minka Greene is trying to get her life together.

She's struggling with her weight, her nonexistent love life, and a million other imperfections.Worse, her twin sister is marrying the man she's been secretly pining over. And she's the maid of honor.
What else could life possibly throw her way?
Enter Jason Montgomery, the best man.
Mesmerizing blue eyes. Sculpted, ink-covered body. And absolutely dangerous.
He has the power to strip her bare and leave all her insecurities exposed. But he's making her feel things she's never felt before. And she could use a distraction.
Jason wants Minka Greene.
Her sweet sensuous curves, not her heart. Life is complicated enough without the stress of relationships.
It was only supposed to be a tryst.
How did feelings get involved?
And, why is it so difficult to let go?

The Scale is a sexy, angsty with all the-feels romance with a hot billionaire alpha hero and a curvy woman standalone in the Martha's Way series. One-click and escape to the Vineyard!
**Each book in the Martha's Way series is a standalone, full-length story that can be enjoyed alone or out of order.
**Series Order:
Book #1 The Scale
Book #2 Need You Now
Book #3 Tattooed Hearts
Book #4 Wrapped in Red – A Christmas Novella
Book #5 In Between Forever
Digital Books

A story that is not streamlined with a particular genre is listed under others. These books generally have mixed content. Somewhere these books talk about romance and switch to suspense after a couple of pages and many other kinds of content can be expected from these books. Readers who are not too specific about the genre can pick any from others. If you have reading habits and can pick any without being so particular then others section is for you. Selecting a genre-specific book might be a tedious task for you. So just go easy. Happy Reading.
Famous Book Quotes
"Once you have read a book you care about, some part of it is always with you.Once you have read a book you care about, some part of it is always with you." ― Louis L'Amour, Matagorda/The First Fast Draw
View More