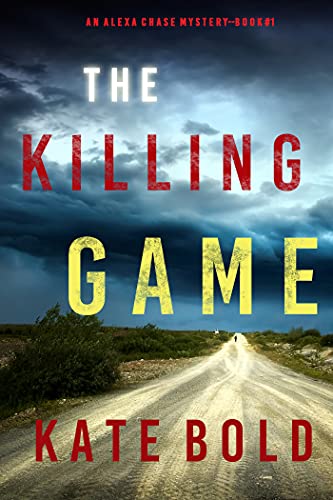 01/09/2022
THE KILLING GAME (An Alexa Chase Suspense Thriller—Book 1) is the debut novel in a new series by mystery and suspense author Kate Bold.

Alexa Chase, 34, a brilliant profiler in the FBI's Behavioral Analysis Unit, was too good at her job. Haunted by all the serial killers she caught, she left a stunning career behind to join the U.S. Marshals. As a Deputy Marshal, Alexa—fit, and as tough as she is brilliant—could immerse herself in a simple career of hunting down fugitives and bringing them to justice.

But when a notorious serial killer escapes from a prison transport, it crosses the jurisdictions of the U.S. Marshals and the FBI's BAU. The two departments are forced to come together on a new joint task force to hunt down the fugitive serial killer and bring him to justice. Alexa, to her dread, finds herself forced to confront the thing she fears the most—entering a killer's mind. Doing so again, she knows, may just drag her down for good.

Alexa and her new partner, each territorial, don't take well to each other. Between their tension and all the clues leading to dead ends and the bodies piling up on the killer's spree, Alexa knows that she, up against a ticking clock, can't afford to get this wrong. Especially when she realizes that she herself may be the next target. To find this diabolical killer, Alexa will have to do what she fears most—enter his twisted mind, before he can strike again. It's a life-and-death game of cat and mouse, and it's winner takes all.

But will the darkness swallow her whole?

A page-turning and harrowing crime thriller featuring a brilliant and tortured Deputy Marshal, the ALEXA CHASE series is a riveting mystery, packed with non-stop action, suspense, twists and turns, revelations, and driven by a breakneck pace that will keep you flipping pages late into the night.

Books #2-#6 in the series—THE KILLING TIDE, THE KILLING HOUR, THE KILLING POINT, THE KILLING FOG, and THE KILLING PLACE—are also available.

Digital Books

I hope you might be surprised to know that Suspense isn't a genre in and of itself since it is a category that includes mystery, thriller, as well as some horror books. That novels which have a suspense story comes beneath the suspense group. If you're like to read novels that give you Suspense, then this category is right for you. To put it differently, if we discuss Suspense, then Suspense is a condition of psychological uncertainty, stress, being undecided, or being doubtful. At a dramatic function, Suspense is your expectation of the results of a plot or the remedy to a doubt, mystery, or puzzle, especially as it impacts a personality for whom you have sympathy.
Famous Book Quotes
"My Best Friend is a person who will give me a book I have not read." ― Abraham Lincoln
View More