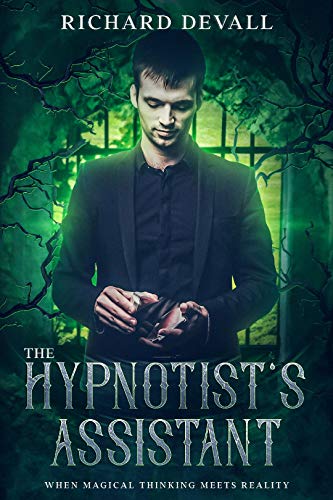 05/08/2022
The Hypnotist's Assistant

When 13-year-old Gary Crockett hypnotizes Earl Lancaster and Earl begins to stand from his wheelchair everything changes for both of them. Gary suspects Earl of lying about his paralysis and Gary's mom has newfound feelings for Earl. His sexy disposition and business genius seem irresistible to her.
Before long all three need to leave town in a hurry. This coming of age tale is full of surprises and quirky characters, twisted circumstances and weird resolutions.
It' a breezy look at race relations, ladyboys, virginity, snake biting churches, meditation, and the novel is sprinkled with humor.
The Hypnotist's Assistant explores healing, romance, religion, deception, dysfunction, inspiration, gender, addiction, and loss.
What begins as an extraordinary event ends with newfound love, true friendship, and hope.
Bottom line - this book ultimately does what books do, it brings the reader entertainment and escape.
★ ★ ★ ★ ★ Modern Odyssey
Odd, strange and wonderful this book takes you on a journey through chicanery, mystery, mischief and brings you out in mystical wonder.
★★★★★ An Intriguing Coming-of-age Story
If you're looking for an interesting and great coming-of-age story, this is one book to consider reading. It's filled with plot twists and weaves in issues that many struggle with, such as politics and religion.
★★★★★ What a Wonderful Read
What a wonderful story to read! Warning extremely fascinating story. This book is about Gary and Earl I was astonished at how quick read it was, but there was so much packed into the short little book. There were so many twists and turns just when you think you've got the story figured out the author was throw something new at you
★★★★★ A Great Mystery Adventure
The story The Hypnotists Assistant was written by Richard DeVall and will grab your attention and draw you deeper and deeper into a journey of illusion.

In simple words, the novel penned by a Christian worldview, a way of viewing the world separated through the facts shown in the Bible, is called Christian books. It implies a sovereign God who made everyone and everything; it believes we are responsible to
God
for our decisions, promises, and activities; it feels we require forgiveness and redemption and that it comes only through the person of Jesus Christ. There are two types of Christian Books:
Christian fiction
Christian fiction books are those books that overtly display elements of Christianity in the story, mixing things like prayer, conversion, church.
Christian non-fiction
Christian non-fiction is normally overt in its use of Biblical beliefs to explain an appropriate subject.
Famous Book Quotes
"A classic is a book that has never finished saying what it has to say." ― Italo Calvino, The Uses of Literature
View More