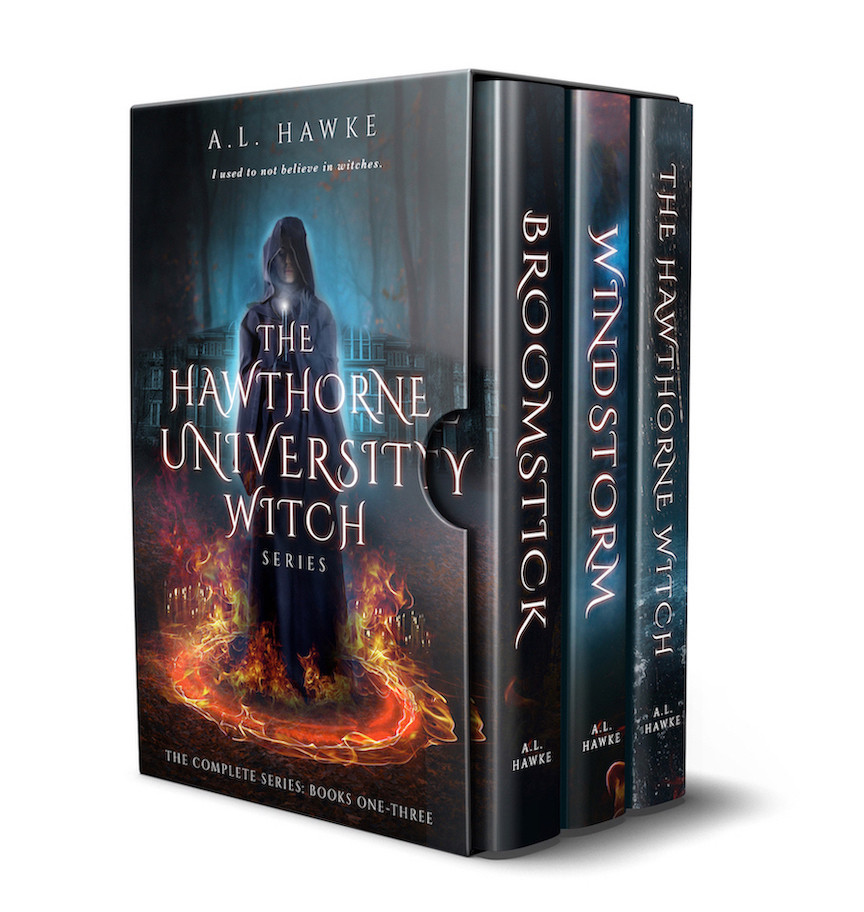 02/18/2022
The Hawthorne University Witch Series is available in its entirety with this complete book collection including:

Broomstick, Book I: I used to not believe in witches. Cadence Hawthorne enrolls in a special honors program at Hawthorne University to be with a super cute teaching assistant. She hopes the program can help with visions of ghosts and witches, while evil from within threatens her and her newfound love.

Windstorm, Book II: Believe in witches, for sometimes you need magic to ward off the evil in darkness. Cadence enters her junior year at Hawthorne University when her friend deals her a reversed Lovers tarot card. That means trouble in paradise. And there's plenty of trouble when she learns of a new wicked witch's involvement in her boyfriend's past.

The Hawthorne Witch, Book III: Sometimes I'd rather shield my eyes than see darkness in light. Cadence stresses over the possibility of losing the love of her life as she plans to graduate from Hawthorne University. She's also a bit distracted by a witch threatened with sacrificial murder and another murmuring to herself on a painted pentagram in her dorm room. Might the Abaddon witch be upsetting her plans?

New adult fiction is now a growing genre of fiction using protagonists in the 18-30 age bracket. In this genre, the publications are written for the age group of 18-30. New Adult is an emerging marketplace that attracts readers in their late teens and early twenties, which are too frequently missing from the pages of both Young Adult and Adult novels to the forefront. In this category, we generally saw some books on new situations and responsibilities that adults carry with them, how adults overcome their bad situations and some exciting stories that remind us about our adult phase.
Famous Book Quotes
"Think before you speak. Read before you think." ― Fran Lebowitz, The Fran Lebowitz Reader
View More