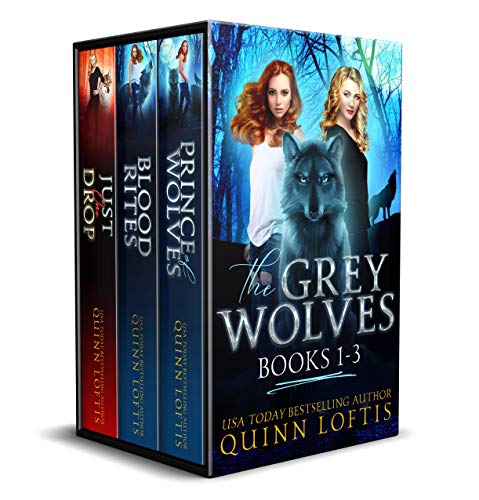 01/31/2022
What would it be like to have a true mate? What if that mate was a werewolf? Three best friends are about to find out.


Begin the award-winning Grey Wolves Series with the first three books: Prince of Wolves, Blood Rites, and Just One Drop. The Grey Wolves series follows the adventures of three high school seniors, Jacque, Jen, and Sally, as the girls are introduced to the hidden world of the Romanian grey wolves. The grey wolves' universe is populated with dominant male Alpha werewolves who slowly succumb to the darkness within them unless they find their true mates. It just so happens these three ladies are destined to become true mates to some of the most powerful males in the Canis lupus world. But destiny won't be fulfilled without a fight. Female Canis lupus are few and far between, and sinister dominant wolves will rise to challenge for the right to mate with these new, unique females. Then ensuring chaos will undermine the strength of the packs, just when a new threat to the Canis lupus world emerges, one that can only be defeated by the strength that comes from the special union of true mates.
What readers are saying:

★★★★★ All-time favorite Wolf Series

★★★★★ My new favorite series!

★★★★★ ...this book was my escape from all of it.... The way Fane and Jacquelyn meet is right out of every girls' dreams.....

★★★★★ This book is completely awesome I'm loving the series can't wait to read the next one... I totally recommend this book.


If you like shifter series, then you'll love the Grey Wolves Series. The Grey Wolves Series has over 100 thousand ★★★★★ five star reviews across all platforms. Don't start this series unless you're ready to join the pack. You will get hooked!
Digital Books





Books in the contemporary fiction genre are composed of stories that may happen to real people in actual settings. The novels don't fall under other genres or categories. They often happen in precisely the same period that the reader is living (the present), with things that are now, or might be occurring, precisely the same period. The contemporary genre also contains conversational and casual dialogue and sometimes even regional dialects. Contemporary fiction novels will provide you a lot of choices to grow your life reading list. Writers, generally speaking, search for what's trending in their own time for their literary work since it lets them illuminate the weakness or strength of the society.
Famous Book Quotes
"Many a book is like a key to unknown chambers within the castle of one's own self." ― Franz Kafka
View More