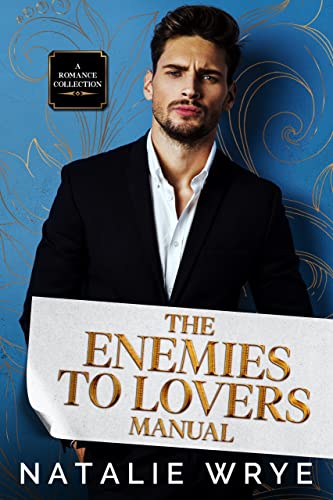 03/26/2022
The Enemies to Lovers Manual is a steamy Billionaire Romance collection filled with FIVE (5) Enemies to Lovers Romances. This collection contains-
1. Hating The Best Man
2. Hating The Player
3. The Vow (A Second Chance Romance)
4. The Bet (An Office Romance)
5. The Play (An Enemies Neighbor Romance)
"If you are looking for a collection of stories full of steam, passion, love and surprises than this collection is for you. This manual will teach you the secrets to spotting a soulmate where you least expect one. (*You've been warned*)
THE SECRETS:
How to become your love-rival's worst nightmare/dream-come-true and make them fall in love with you:
#1. Never say anything nice to them - not about their work, their clothes, or anything.
#2. Ignore any gestures that may be seen as affectionate - like a pat on the back or the sexy way he smiles or that nervous hair-tucking habit she has that makes you want to bit her bottom lip.
#3. Never look their way when they approach or walk by.
#4. Never make eye-contact. Look at your own feet!
#5. Never for a second forget that you hate them...because when you least expect it, love will sneak its way in your heart and nothing will ever be the same.
Books in the contemporary fiction genre are composed of stories that may happen to real people in actual settings. The novels don't fall under other genres or categories. They often happen in precisely the same period that the reader is living (the present), with things that are now, or might be occurring, precisely the same period. The contemporary genre also contains conversational and casual dialogue and sometimes even regional dialects. Contemporary fiction novels will provide you a lot of choices to grow your life reading list. Writers, generally speaking, search for what's trending in their own time for their literary work since it lets them illuminate the weakness or strength of the society.
Famous Book Quotes
"A half-read book is a half-finished love affair." ― David Mitchell, Cloud Atlas
View More