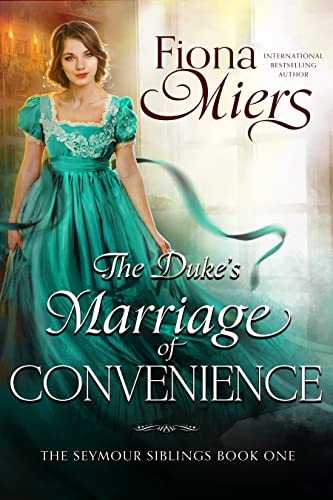 02/28/2022
A reluctant bride desperate to save her family……but can she save the heart of this jaded Duke?

Kitty's family is on the brink of financial ruin, and her hand in marriage is their most valuable asset. The spirited tomboy would rather care for her horses than tend to a husband—even if her betrothed is a dashing Duke. But to save her family, Kitty accepts the dull life of a Duchess, and the societal expectations that will surely crush her soul. Her handsome fiancé, with his extravagant stables and shared love of horses, takes her by surprise. And so does the attraction she feels with every whispered word and flammable touch. This once reluctant bride soon yearns for more than a marriage of convenience.

James Seymour, Duke of Somerset, is resigned to his fate… he will marry for duty, rather than love. Since the crushing blow of his parents' deaths, guilt has driven James's every decision. A quiet loveless marriage is all he deserves. But his fiancé is no simpering society Miss. With a sharp wit and an even sharper tongue, she has him bewitched and bewildered. Kitty's joy for life pulls him out of the cold, dark shadows of regret, ready to embrace life again. But James's stubborn streak turns Kitty's passion to anger. And the engagement is broken—along with his heart.

James is determined to win back the only woman he's ever loved… before it's too late. Can Kitty forgive James and give him a second chance?

Author note: This is a much more traditional and sweeter Regency than the 'Spares' series.

Historical fiction is a literary genre in which the narrative takes place in the past. Historical books capture the particulars of the time as correctly as possible to get authenticities, such as societal norms, ways, habits, and traditions. Historical fiction is put in a real location during a culturally recognizable moment. The facts and the actions from the narrative can be a mixture of real occasions and ones in the writer's creativity as they fill in the gaps. Characters may be pure fiction or based on actual people. But what about them and their look and attitudes, how they talk, and issues that they face, everything which should match the era.
Famous Book Quotes
"A house without books is like a room without windows." ― Horace Mann
View More