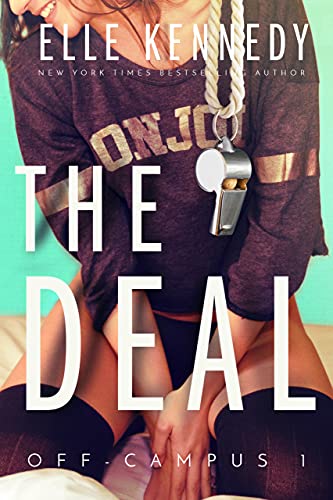 01/26/2022
A sexy standalone novel* from New York Times and international bestselling author Elle Kennedy!

She's about to make a deal with the college bad boy…

Hannah Wells has finally found someone who turns her on. But while she might be confident in every other area of her life, she's carting around a full set of baggage when it comes to sex and seduction. If she wants to get her crush's attention, she'll have to step out of her comfort zone and make him take notice…even if it means tutoring the annoying, childish, cocky captain of the hockey team in exchange for a pretend date.

...and it's going to be oh so good

All Garrett Graham has ever wanted is to play professional hockey after graduation, but his plummeting GPA is threatening everything he's worked so hard for. If helping a sarcastic brunette make another guy jealous will help him secure his position on the team, he's all for it. But when one unexpected kiss leads to the wildest sex of both their lives, it doesn't take long for Garrett to realize that pretend isn't going to cut it. Now he just has to convince Hannah that the man she wants looks a lot like him.

*Originally published in 2015. This is an updated, edited version.
New adult fiction is now a growing genre of fiction using protagonists in the 18-30 age bracket. In this genre, the publications are written for the age group of 18-30. New Adult is an emerging marketplace that attracts readers in their late teens and early twenties, which are too frequently missing from the pages of both Young Adult and Adult novels to the forefront. In this category, we generally saw some books on new situations and responsibilities that adults carry with them, how adults overcome their bad situations and some exciting stories that remind us about our adult phase.
Famous Book Quotes
"There is no mistaking a real book when one meets it. It is like falling in love." ― Christopher Morley, Pipefuls
View More