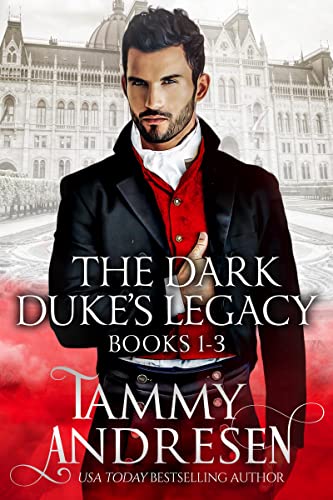 04/21/2022
Meet the Wicked Whites, sons of the Dark Duke, they bend to no man. But the right woman...

Her Wicked White
Benedict White is the new Duke of Whitehaven but he's inherited a whole set of old problems right along with his dukedom.

Warring siblings.
A mysterious clause within his father's will.
And swirling questions about his father's death.

He's a man who lives his life alone. How can he untangle himself from this mess? Still, he'll do what's best for the dukedom no matter how much he hates the task. And when he meets his sister's companion, Miss Chloe Fairly, he can't deny that he's tempted. As lovely as she is sweet, he'd keep her for himself if he were a different sort or if there were a heart still in his chest. But he's pretty sure he lost his years ago. And he's got enough problems without adding a temptress to the list.

Her Willful White
Is she a French spy or the woman of his dreams?

Lord Destrian White, brother to the Duke of Whitehaven is a man who prides himself on self-reliance and perseverance. He doesn't need anyone and if life doesn't give him what he requires, he takes what he needs. But when Miss Fleur Dupont enters his life, everything turns upside down.

His Wallflower White
He'll keep her safe no matter the cost…

When The Honourable Patrick Cranston is hired by the White family to guard a duke's sister, he's relieved. Watching one debutante is a fair sight easier than bareknuckle boxing, at least that's how it seems. At first. But as trouble swirls about Lady Millicent, threatening the delicate beauty, he realizes her circumstances are far more dangerous than he first imagined. Her life is at risk and it's his job to protect her. But that isn't what scares him the most. The more time he spends with her, the more he realizes, his heart in peril as well and that frightens the hell out of him. Still, he'll do anything to save them both.

Historical fiction is a literary genre in which the narrative takes place in the past. Historical books capture the particulars of the time as correctly as possible to get authenticities, such as societal norms, ways, habits, and traditions. Historical fiction is put in a real location during a culturally recognizable moment. The facts and the actions from the narrative can be a mixture of real occasions and ones in the writer's creativity as they fill in the gaps. Characters may be pure fiction or based on actual people. But what about them and their look and attitudes, how they talk, and issues that they face, everything which should match the era.
Famous Book Quotes
"A book must be the axe for the frozen sea within us." ― Franz Kafka
View More