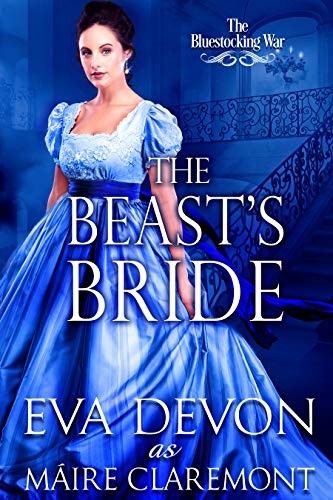 05/24/2022
From USATODAY Bestselling author Eva Devon, writing as Maire Claremont, comes a brand new series that will sweep you away to the drama and angst of Regency England. Glittering ballrooms, wild moors, and brooding lords waiting to be tamed by bluestockings await. . .

Lady Augusta Penworthy is in dire straights. Her father has spent every last coin and she and her sisters cannot even afford coal. One chance encounter and a torn gown change everything. While one might think a sudden marriage to a wealthy lord would be a relief, if that marriage is to to The Duke of Blacktower one would be vastly mistaken. For no young lady wishes to be the that infamous rake's bride.

The Duke of Blacktower has a secret. He has vowed never to marry and ensured his fearsome reputation would dissuade any hopeful lady or their scheming mama. Now, his hand has been forced and his fury is unleashed. But Lady Augusta is not the manipulative young lady he believed and suddenly he finds himself tempted by his own bride.

Historical fiction is a literary genre in which the narrative takes place in the past. Historical books capture the particulars of the time as correctly as possible to get authenticities, such as societal norms, ways, habits, and traditions. Historical fiction is put in a real location during a culturally recognizable moment. The facts and the actions from the narrative can be a mixture of real occasions and ones in the writer's creativity as they fill in the gaps. Characters may be pure fiction or based on actual people. But what about them and their look and attitudes, how they talk, and issues that they face, everything which should match the era.
Famous Book Quotes
"I have always imagined that Paradise will be a kind of library." ― Jorge Luis Borges
View More