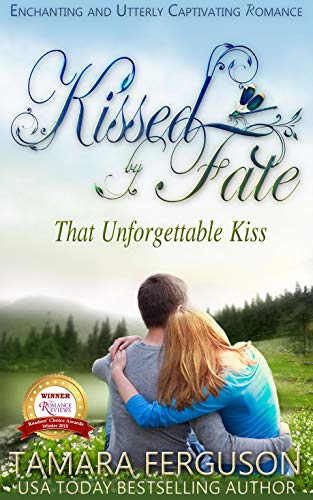 01/18/2022
Six Years After Kate Callahan And Michael Murphy Share An Unforgettable Kiss, Murphy Returns To Crystal Rock To Win Her Back. But Will Murphy Be Able To Protect Kate From An Unknown Predator?
Romance Reviews Readers' Choice Award WINNER & IAN Book Of The Year Mystery Finalist
Kate Callahan has always known that, someday, she'd run the family business. So men have always been merely a distraction for Kate; she just doesn't have time for love.
Until fate steps in by way of a prophecy foretold, years ago, by a friend who'd been blessed with a remarkable gift. Kate has been warned that, one day, she'll be kissed by fate. And love will happen with that unforgettable kiss.
Michael Murphy already has his life mapped out. After graduating with his degree in Architecture, he'll be working at a prestigious firm in Chicago. When he arrives in the town of Crystal Rock to serve as an intern at Callahan Construction, the last thing he expects is his instant attraction to lovely crew boss, Kate Callahan.
Kate's immediately drawn to Murphy, too. And sparks fly when they unite in an attempt to discover the identity of the thief who's been stealing construction materials from her family's company.
But how could a long-term relationship between them ever survive? They're both young, with different dreams and goals. So even after their unforgettable kiss, Kate lets Murphy go.
Devastated when she learns that Michael Murphy's become engaged six years later, Kate's finally admitted her mistake; she's just never been able to forget that kiss.
Little does Kate know that Murphy's been feeling the same way too, and after breaking his engagement, Murphy comes up with a plan to win her back
But there's an ominous secret in the town of Crystal Rock. Will Murphy be able to protect Kate from an unknown predator?
Digital Books

New adult fiction is now a growing genre of fiction using protagonists in the 18-30 age bracket. In this genre, the publications are written for the age group of 18-30. New Adult is an emerging marketplace that attracts readers in their late teens and early twenties, which are too frequently missing from the pages of both Young Adult and Adult novels to the forefront. In this category, we generally saw some books on new situations and responsibilities that adults carry with them, how adults overcome their bad situations and some exciting stories that remind us about our adult phase.
Famous Book Quotes
"A book must be the axe for the frozen sea within us." ― Franz Kafka
View More