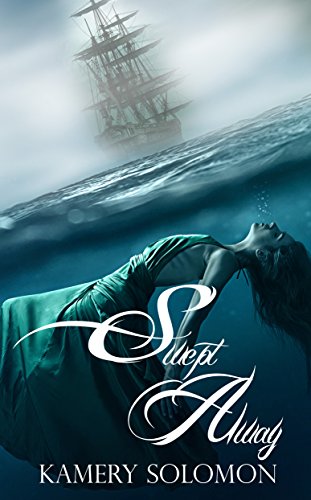 06/28/2022
From Kamery Solomon, #1 bestselling genre author and creator of the bestselling series The God Chronicles, comes SWEPT AWAY, a time travel romance fraught with danger and secrets on the high seas!

"Amazing! The best way I can think to describe it is Pirates of the Caribbean meets Outlander! There is action, adventure, romance and so much more! You will not be disappointed!"
~Heather Garrison, Amazon Customer

"Kamery Solomon never disappoints a reader in her ability to tell a great story. She has proven she's not a one trick pony and capable of writing across genres. Highly recommend reading any and all of her books."
~Lisa Markson, The Paranormal Bookworm

"This book has so many twists and turns that will keep you reading all night long. I love the characters and the mystery. The author does a fantastic job weaving every part in this story that will leave you wanting more. I highly recommend!"
~Laura Collins, Amazon Customer

"I was pulled in right away and I did not want to put the book down, nor did I want the story to end . . . a must read!"
~Holly Copper, Amazon Customer

"Marvelous, wonderful, awe-inspiring; these are just a few words to describe just a fraction of the awesomeness that is this book."
~Julie Engle, Amazon Customer

"This is a book I will read time and time again."
~Angie Angelich, Bookeepsie

Get ready to be Swept Away!

BLURB:

Dead men tell no tales...

For more than 200 years, the Treasure Pit on Oak Isle has baffled treasure hunters, engineers, and the common man alike. When Samantha Greene arrives, she finds her estranged father has spent years funneling energy and finances into the endeavor, finding nothing.

When an accidental death occurs in the pit, fulfilling the prophecy that seven lives must end before the treasure can be found, the search kicks into high gear, with more than one party vying for the secrets that lie below. Finding herself the closest to the treasure anyone has ever been, Samantha throws herself into the work, landing among the coveted prize. Just as she's about to discover what's truly hidden beneath the island, the pit begins to flood with ocean water, sweeping her away despite her attempts to swim to the surface.

Upon awaking, Samantha discovers that, not only did she not drown, but the year is 1695—one hundred years before the Treasure Pit was even discovered. Carried off by the pirate Tristan O'Rourke, a rouge Irishman with more than his share of secrets, she soon finds that there is much more than she realized in play. Will she discover the secrets of Oak Isle, or will an unexpected love keep her from finding out the truth? Will she ever make it back to her own time? Perhaps the real question is this; will she want to?

Famous Book Quotes
"Reading one book is like eating one potato chip." ― Diane Duane, So You Want to Be a Wizard
View More