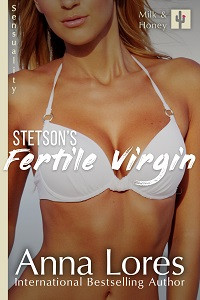 01/27/2022
To get what she wants, she's going to have to make some changes...
Willow Winters wants a husband and a baby, but she needs a man who will accept her budding relationship with her best friend Emma. Can she have both, or is that too much to ask?
Stetson wants a wife who is passionate and one he can share with his best friend and his best friend's wife. He's not accepting anything less than everything. Wanting Willow to be the one is easy, but she's untouched and innocent...
Warning: Sharing creamy milk and honey is quite naughty, and oh so delicious.
*f/f content. Stetson's Fertile Virgin is the second short story in the Milk and Honey Series of naughty and some might consider taboo contemporary romance short stories.
Digital Books

Books in the contemporary fiction genre are composed of stories that may happen to real people in actual settings. The novels don't fall under other genres or categories. They often happen in precisely the same period that the reader is living (the present), with things that are now, or might be occurring, precisely the same period. The contemporary genre also contains conversational and casual dialogue and sometimes even regional dialects. Contemporary fiction novels will provide you a lot of choices to grow your life reading list. Writers, generally speaking, search for what's trending in their own time for their literary work since it lets them illuminate the weakness or strength of the society.
Famous Book Quotes
"Good books don't give up all their secrets at once." ― Stephen King
View More