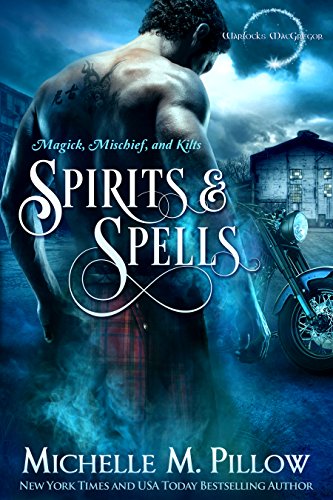 03/02/2022
Magic, Mischief & Kilts!

A modern-day Scottish paranormal romance by NYT Bestselling Author Michelle M. Pillow.

5 Stars! "Best MacGregor book yet!"

From the Highlands of Scotland to the valleys of Wisconsin...
Charlotte Carver is going insane—suffering everything from memory loss to hallucinations, to phantom conversations she can't recall having. Something tells her it's not a coincidence that it all started when the MacGregor family moved to town, and the one person who knows what's going on is the last person Charlotte would ask for help. Her new landlord, Niall MacGregor, is not the most approachable man but that hasn't stopped the brooding Scottish biker from invading her dreams.
When Charlotte's memories start to return, she's not sure she can trust what they are telling her. If magic does exist, then is her attraction to Niall just an illusion?
Motorcycle riding werewolf, Niall MacGregor is the longtime supernatural enforcer for his warlock family. He has regretted more than a few things that he's done in the name of duty, but taking Charlotte's memories ranks as one of the worst. It was necessary, to both protect his magical family and save Charlotte's sanity. But the intimate glimpse into her mind has only made him want things he can never have—including the love of the gorgeous, brave woman herself.
Something from Niall's past has come back to threaten everything he holds dear.
Warning: Contains yummy, hot, mischievous MacGregors who are almost certainly up to no good on their quest to find true love. And Uncle Raibeart.
What readers are saying...

5 Stars! "Best MacGregor book yet!"

5 Stars! "Michelle Pillow has created a cast of characters that I love. They are wacky and entertaining. The siblings are gorgeous, sexy and powerful. But above all, this family loves and protects each other. I recommend this series. I am really looking forward to reading the next Warlocks Macgregor book."
5 Stars! "LOVE everything about this series. The MacGregor family has it all. Sexy Scottish warlocks who love with all they are. Humour by the mile, and an adventure that makes reading seem like minutes instead of hours."

A Warlocks MacGregor Novel
Contemporary Scottish Magic Paranormal Shifter Romance
Digital Books





In general words, the paranormal literary fiction genre comprises beings and happenings beyond the world of normal scientific comprehension of the natural world. Novels in the fiction genre are all put in the actual world. However, they comprise experiences that defy scientific explanation. For instance, stories put on earth contain angels, demons, witches, psychics, witches, etc. If you love to read some books with ghosts and angels, you must add this category to your reading list. Many books available in the market come under the Paranormal Genre, and you can buy them online or offline.
Famous Book Quotes
"but for my own part, if a book is well written, I always find it too short." ― Jane Austen
View More