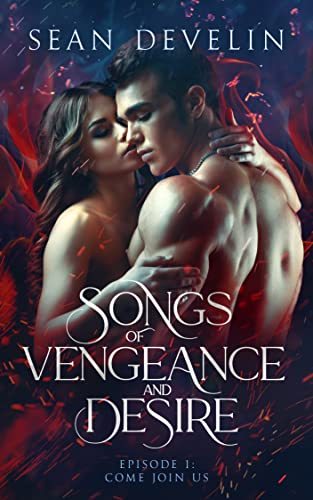 02/22/2022
Part Urban Fantasy. Part Thriller. All Steamy Paranormal Romance ™

The Angel of Desire and his Dark Sister have been freed from the Mouth of Hell and seek the sweet taste of mortal flesh. As humankind falls before their insatiable hunger, a warrior-queen arises to mount humanity's last stand. A world away, the beautiful heiress to a blood-tainted fortune confronts an equally lethal enemy – an Artificial Intelligence in the hands of a secret society hell bent on ruling everything. When the society tears open the boundary between worlds, the fates of these two "sisters" become intertwined. Their story will play out in the forbidden embrace of enemies turned lovers, in the sin-filled dark recesses of besieged cities, the boardrooms and bedrooms of power brokers, and on desolate battlefields where love offers the only hope of salvation.

It all starts here, in Come Join Us, a special double episode in which:

Seemingly struck by amnesia, heiress Brianne saves the life of a dangerous enemy. In return, he uses his stunning good looks and the smoldering desire in his eyes to take her captive. But his motives may not be what they seem….

Tana, the girl-queen leading the rebellion against the forces of Hell, finds herself a prisoner in a strange land where her only ally is a tormented silver fox with whom she feels an immediate connection.

A brilliant professor stands to lose his life's work to a secret society with terrifying reach. But he has an ally on his side: his love, who has been operating in the shadows – until now. And she is far, far more dangerous than any new world order.

The demoness terrorizing the countryside finds herself captivated by a widowed king's pain. It draws her to him like a drug. She can "heal" him with the taste of her lips - a kiss no mortal man has ever survived.

Songs of Vengeance and Desire is a soap opera serialized in twenty-five bi-weekly installments. Every other Monday in 2022, Valentine's Day until Christmas, you can download your latest hit of thrills, passion, and romance. Satisfaction – and lots of frustration – guaranteed.

Escape to your newest and most delicious addiction tonight! Or, as a certain she-demon would say:

Come join us.

Digital Books

Erotic romance books are stories written concerning the growth of a romantic relationship through sexual interaction. Sex is an intrinsic part of the narrative, character development, and relationship development and may not be eliminated without damaging the narrative. To put it differently, it is fun, it's hot, and it could be prestigious. This means, where else can you spot sexy billionaires, rough war heroes, teachers that do not mind giving you D jokes. If you are passionate about your partner or love to read others' passionate sex or love story, then you should add this genre to your reading list. Here are some amazing erotic romance books online that you might like to read.
Famous Book Quotes
"If you go home with somebody, and they don't have books, don't fuck 'em!" ― John Waters
View More