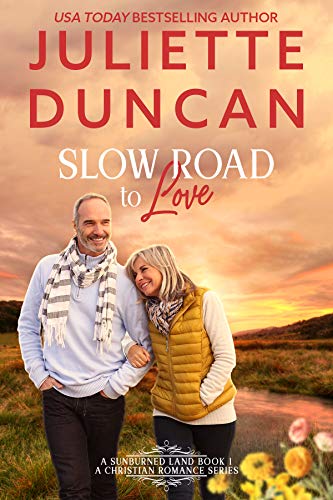 05/23/2022
A divorced reporter on a remote assignment. An alluring cattleman who captures her heart…  

City dwelling Maggie Donovan is trying her best to let go of her resentment after her high-profile politician husband of thirty-five years left her for a much younger woman. Her focus now is her job as a reporter for the Country Women's Magazine, her two adult children, and her church.
She doesn't care that her ex-husband now has a child who could be his grandchild.
No. It doesn't worry her at all.
Frank Goddard has never considered moving on after his beautiful wife, Esther, was killed in a freak accident six years earlier. His family, who live with him on Goddard Downs, a cattle station in northern Australia, plus his faith, are what he lives for now.
But he's lonely. He just doesn't know it.
When Maggie is sent to the remote, mysterious Kimberley area to write about women living on isolated cattle stations, she jumps at the chance. A change is as good as a holiday, so they say.
Never did she expect to fall for the tall, handsome Frank Goddard of Goddard Downs.
But how can a relationship work when they live so far apart?
When the road is slow and dangerous.
When their lives are complicated.
And besides, how do you date when you're going on sixty?
Slow Road to Love is Book One in the Sunburned Land Series, a mature-age Christian romance set in the beautiful, rugged and remote Kimberley region of northern Australia. Fall in love with Frank and Maggie today, but note that their story continues in Book Two, Slow Journey to Joy.
Books by Juliette Duncan
Contemporary Christian Romance
The Shadows Series 
Lingering Shadows
Facing the Shadows
Beyond the Shadows
Secrets and Sacrifice
A Highland Christmas
The True Love Series
Tender Love
Tested Love
Tormented Love
Triumphant Love
True Love at Christmas
Promises of Love
Precious Love Series
Forever Cherished
Forever Faithful
Forever His
The Potter's House Books Series
The Homecoming
Unchained
Blessings of Love
The Hope We Share
A Time for Everything Series
A Time to Treasure
A Time to Care
A Time to Abide
A Time to Rejoice
Billionaires with Heart Christian Romance Series
Her Kind-Hearted Billionaire
Her Generous Billionaire
Her Disgraced Billionaire
Transformed by Love
Because We Loved
Because We Forgave
Because We Dreamed
Becuase We Believed
Middle Grade Christian Fiction
The Madeleine Richards Series
Rebellion in Riversleigh
Problems in Paradise
Trouble in Town
For all my books: https://readerlinks.com/mybooks/564
In simple words, the novel penned by a Christian worldview, a way of viewing the world separated through the facts shown in the Bible, is called Christian books. It implies a sovereign God who made everyone and everything; it believes we are responsible to
God
for our decisions, promises, and activities; it feels we require forgiveness and redemption and that it comes only through the person of Jesus Christ. There are two types of Christian Books:
Christian fiction
Christian fiction books are those books that overtly display elements of Christianity in the story, mixing things like prayer, conversion, church.
Christian non-fiction
Christian non-fiction is normally overt in its use of Biblical beliefs to explain an appropriate subject.
Famous Book Quotes
"I guess there are never enough books." ― John Steinbeck, A John Steinbeck Encyclopedia
View More