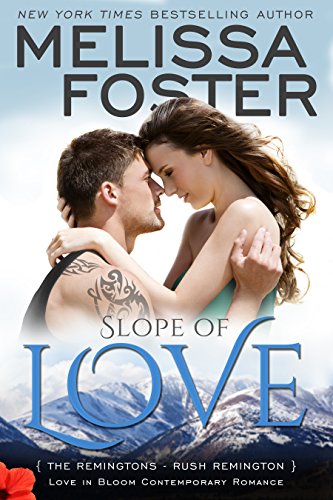 08/08/2022
Discover the magic of New York Times bestseller Melissa Foster's writing, and see why millions of readers have fallen in love with the Remingtons and the rest of the Love in Bloom contemporary romance collection. The Remingtons are a series of stand-alone romances that may also be enjoyed as part of the larger Love in Bloom series.

"You can always rely on Melissa Foster to deliver a story that's fresh, emotional and entertaining. Make sure you have all night, because once you start you won't want to stop reading. Every book's a winner!" NYT Bestselling Author Brenda Novak

In USA Today bestseller SLOPE OF LOVE...
Olympic gold medalist skiers Jayla Stone and Rush Remington have been best friends for years. They've seen each other at their best and worst and have kept each other's secrets without fail. Only there's one secret Rush has kept close to his chest. After months of introspection, Rush realizes he's been filling his bed but not tending to his heart. He's changed his womanizing ways, and the only woman who can fill his heart has been right by his side all this time.

Years of intimate conversations and the sharing of hopes and dreams collide when Rush reveals his secret, and one toe-curling kiss changes everything between Rush and Jayla. They're no match for the passion that kiss ignites, or the pull of true love. But being Rush's best friend means knowing all about his revolving bedroom door--and Jayla has a secret of her own that could jeopardize her career and her relationship with Rush. Even their love may not be enough to overcome Rush's past or secure Jayla's future.

***
WANT MORE Remingtons?

THE REMINGTONS
Game of Love (Dex)
Stroke of Love (Sage)
Flames of Love (Siena)
Slope of Love (Rush)
Read, Write, Love (Kurt)
Touched by Love (Boyd)
***
The Remingtons are part of the Love in Bloom big family romance collection. Characters from each sub-series appear in future books. Read the complete Love in Bloom series: Visit Melissa's website for LOVE IN BLOOM family trees, series checklists, and more.

SNOW SISTERS
Sisters in Love
Sisters in Bloom
Sisters in White

THE BRADENS (Weston, CO)
Lovers at Heart (Treat & Max)
Destined for Love (Rex & Jade)
Friendship on Fire (Josh & Riley)
Sea of Love (Dane & Lacy)
Bursting with Love (Savannah & Jack)
Hearts at Play (Hugh & Bree)

THE BRADENS (Trusty, CO)
Taken by Love (Luke)
Fated for Love (Wes)
Romancing My Love (Pierce)
Flirting with Love (Ross)
Dreaming of Love (Emily)
Crashing into Love (Jake)

THE BRADEN WORLD NOVELLAS
Promise My Love (Rex & Jade's Wedding Novella)
Daring Her Love

SEASIDE SUMMERS
Seaside Dreams (Bella)
Seaside Hearts (Jenna)
Seaside Sunsets (Jamie)
Seaside Secrets (Amy)
Seaside Nights (Sky)
Seaside Embrace (Hunter)
Seaside Lovers (Grayson)
Seaside Whispers (Matt)

THE BRADENS (Peaceful Harbor, MD)
Healed by Love (Nate)
Surrender My Love (Cole)
River of Love (Sam)
Crushing on Love (Shannon)
Whisper of Love (Tempest)
Thrill of Love (Ty)

THE RYDERS
Seized by Love (Blue)
Chased by Love (Trish)
Swept Into Love (Gage)
Rescued by Love (Jake)

"With her wonderful characters and resonating emotions, Melissa Foster is a must-read author!" New York Times Bestseller Julie Kenner

"Melissa Foster is synonymous with sexy, swoony, heartfelt romance!" New York Times Bestseller Lauren Blakely

"Like Nora Roberts, Melissa Foster has captivated me with her fantastic, sexy, romantic stories." K. Winning

"Sweet, sexy, and sensual." Bestselling author Amy Manemann

AUTHOR BIO
Melissa Foster is a New York Times & USA Today bestselling and award-winning author. She writes sexy and heartwarming contemporary romance, new adult romance, and women's fiction with emotionally compelling characters that stay with you long after you turn the last page. Melissa's emotional journeys are always family oriented.

Famous Book Quotes
"Books are a uniquely portable magic." ― Stephen King, On Writing: A Memoir of the Craft
View More