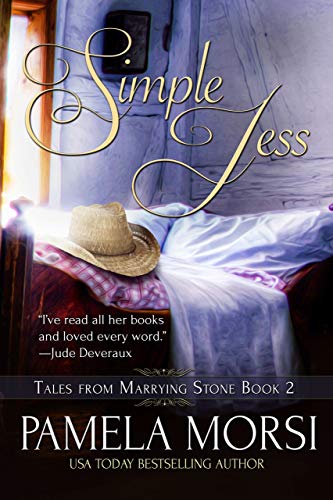 02/26/2022
From a USA Today bestselling author, Simple Jess is chock-full of Ozarks mountain culture and characters that you are sure you know, Simple Jess is a unique and beloved romance novel no reader should miss.
Jesse Best is a simple man with simple ambitions, his own dog, his own gun and a woman. In this very special return to Marrying Stone, Jesse gets his chance at all three. Althea Winsloe is a widow with a son. All she wants is to give her boy a better childhood than her own. But a young woman sitting on a prime piece of farmland is bound to draw attention from her envious neighbors and swains on every side. Interfering relatives and the confession of an illicit kiss force her to make her choice of a new husband by Christmas Day.
---
RT Reviewers Choice Award -- Innovative Historical Romance Winner
1998 All About Romance Reader Award -- Top 100 Romances Winner
---
Tales from Marrying Stone
Book 1: Marrying Stone
Book 2: Simple Jess
Book 3: The Lovesick Cure
Historical fiction is a literary genre in which the narrative takes place in the past. Historical books capture the particulars of the time as correctly as possible to get authenticities, such as societal norms, ways, habits, and traditions. Historical fiction is put in a real location during a culturally recognizable moment. The facts and the actions from the narrative can be a mixture of real occasions and ones in the writer's creativity as they fill in the gaps. Characters may be pure fiction or based on actual people. But what about them and their look and attitudes, how they talk, and issues that they face, everything which should match the era.
Famous Book Quotes
"I have always imagined that Paradise will be a kind of library." ― Jorge Luis Borges
View More