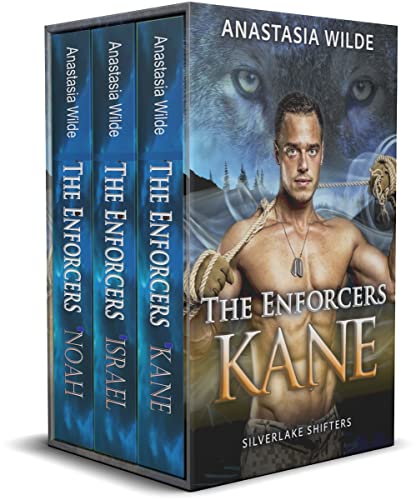 02/14/2022
The Silverlake Enforcers – tough, wild, sexy and badass, until their true mates bring out the softer side they show to no one else…

KANE: Never trust your heart. Kane Colton has lived by those words ever since he escaped from a destructive bond that turned him into a monster. Now he only cares about three things: protecting his packmates, watching his blood brother's back, and keeping his wild wolf under control. Until a woman from his past turns his life upside down…

ISRAEL: Becoming a bodyguard for a temperamental singing diva is far from Israel Jonas's dream job, until he finds out she's his destined mate. But when a celebrity stalker threatens her, convincing Ashley to trust him completely isn't so easy. And convincing her to fall in love with him is even harder…

NOAH: Caught in wolf form in a poacher's trap, Noah Reilly falls hard for the woman who saves his life—even though she has no idea he has a human side. But she's caught in a web of lies and danger that threatens her and her young son, and the only way for Noah to save them is to reveal his true nature, even if it drives her away…

Let the Enforcers capture you, heart and soul! Grab The Silverlake Enforcers Box Set now and binge on wild wolf love!

In general words, the paranormal literary fiction genre comprises beings and happenings beyond the world of normal scientific comprehension of the natural world. Novels in the fiction genre are all put in the actual world. However, they comprise experiences that defy scientific explanation. For instance, stories put on earth contain angels, demons, witches, psychics, witches, etc. If you love to read some books with ghosts and angels, you must add this category to your reading list. Many books available in the market come under the Paranormal Genre, and you can buy them online or offline.
Famous Book Quotes
"Sleep is good, he said, and books are better." ― George R.R. Martin
View More