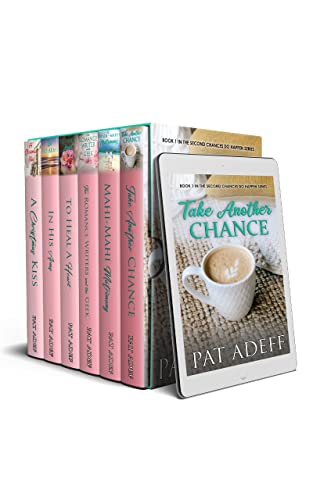 02/08/2023
If you enjoy reading family sagas in Kindle Unlimited that range from a later in life mom dealing with divorce to the contemporary romance of a young woman who was stood up at the altar, you will love this series that deals with family life fiction.


Beaches, mountains, and island paradises abound in this collection of clean and wholesome fiction.

Book 1 - Take Another Chance
Book 2 - Mahi-Mahi Matrimony
Book 3 - The Romance Writer and the Geek
Book 4 - To Heal a Heart
Book 5 - In His Arms
Book 6 - A Christmas Kiss

The heroes are a cop, a secret billionaire, a swing-dancing computer guy, an ER doctor, a firefighter, and a wounded warrior.
Each book is a standalone book that ties in with other books in the series.
And as with all Pat Adeff's books, there are swoon-worthy kisses, happily-ever-after's, and weddings!

Digital Books

Famous Book Quotes
"My Best Friend is a person who will give me a book I have not read." ― Abraham Lincoln
View More