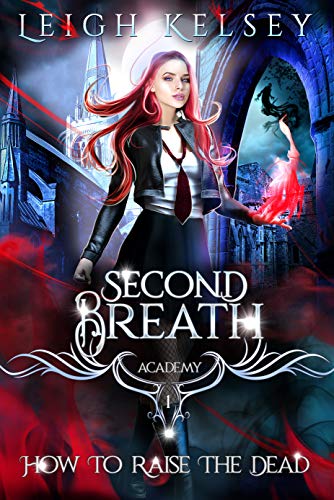 03/20/2022
Evil. Dangerous. A necromancer gone bad.
That's what people say about Kati Wilson.
No one cares that it's her brother accused of killing someone at Second Breath Academy last year; she's guilty by association.
Kati never expected an invitation to the academy after the rumours and murder. But she can't pass up the chance to learn magic from the best teachers in the world. If she's going to have a real future, with her reputation thoroughly wrecked, she's going to need all the help she can get.
But when the groundskeeper turns up dead, covered in black magic runes, a new mystery unfolds. And Kati's first term could be her last…
Deadly spells, blood magic, and forbidden romance collide in this paranormal academy for necromancers and reapers. If you like murder mystery, slow burn romance that adds a love interest in each book, and magical hijinks, you'll love Second Breath Academy!
This is a full-length novel at 71,000 words. All characters are adults. The series will contain F/M and F/F romance, plus a teacher/student romance.
Digital Books

New adult fiction is now a growing genre of fiction using protagonists in the 18-30 age bracket. In this genre, the publications are written for the age group of 18-30. New Adult is an emerging marketplace that attracts readers in their late teens and early twenties, which are too frequently missing from the pages of both Young Adult and Adult novels to the forefront. In this category, we generally saw some books on new situations and responsibilities that adults carry with them, how adults overcome their bad situations and some exciting stories that remind us about our adult phase.
Famous Book Quotes
"The library is inhabited by spirits that come out of the pages at night." ― Isabel Allende
View More