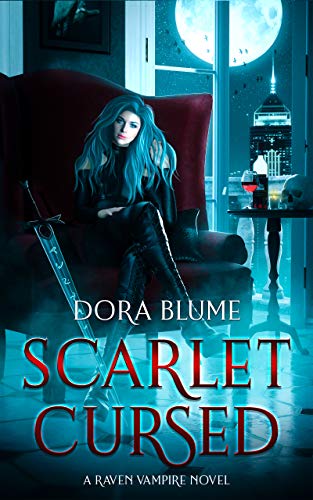 05/15/2022
Cursed fangs. Fiery chemistry. A twisted case that could win her freedom… or leave her lifeless.
Death lies scattered at Hope Matthews' feet. Already solving murders by day, the audacious detective resents the overbearing but well-built vampire whose bite flipped her evenings upside down. But when she's offered a blood-oath to escape from her confines, she seizes the chance and starts searching for answers to a string of bodies drained of life.
Taking her investigation to the seedy club where the victims met their demise, Hope revels in the jealousy her attraction to a playful crime scene tech creates with her dark, controlling master. But with supernatural attacks rising and life-changing secrets hanging in the night air, the trail of clues could lead her straight into a shallow grave.
Can the bold sleuth reclaim her freedom before she meets her own gory end?
Scarlet Cursed is the pulse-pounding first book in the Raven Vampire Assassin urban fantasy series. If you like strong-willed heroines, dashes of romance, and worlds dripping with intrigue, then you'll love Dora Blume's red letter.
Buy Scarlet Cursed to lift the crimson stain today!
Digital Books





Scribd
In general words, the paranormal literary fiction genre comprises beings and happenings beyond the world of normal scientific comprehension of the natural world. Novels in the fiction genre are all put in the actual world. However, they comprise experiences that defy scientific explanation. For instance, stories put on earth contain angels, demons, witches, psychics, witches, etc. If you love to read some books with ghosts and angels, you must add this category to your reading list. Many books available in the market come under the Paranormal Genre, and you can buy them online or offline.
Famous Book Quotes
"A book must be the axe for the frozen sea within us." ― Franz Kafka
View More