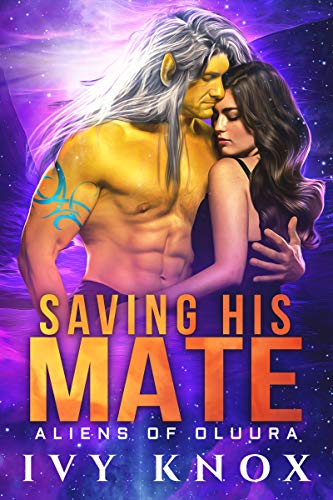 04/13/2022
Sold at auction on an alien planet, Chloe assumed death was around the corner. But she found love instead.
Dumped by her longtime boyfriend, Chloe decides to embrace spinsterhood by adopting one (or five) dogs. Those plans are squashed when she's kidnapped from Earth and shoved into a glass cage with two other terrified human women on an alien planet. How could it possibly get any worse?
The three women are sold at auction to the highest bidder, who happens to be a seven-foot-tall alien named Varrek, with shimmering gold skin and muscles for days. He recognizes Chloe as his fated mate, but he knows he can never have her because of a tragic past he continues to run from.
Varrek takes her back to his home planet of Oluura and vows to help get her settled in the enchanting village of treehouses he shares with his clan. He'll keep her safe, and ensure she's sheltered and fed. That's it.
But the closer they get, the stronger their bond becomes. And the harder it is for Chloe to imagine ever going back to Earth.
Chloe has found the kind of love she's always wanted, but will Varrek's dark past tear them apart?

Saving His Mate is a full-length standalone sci-fi romance featuring a golden-skinned alien with breathtaking eyes and a secret past that threatens to destroy his future, a curvy 35-year-old heroine who is sick of feeling broken and is determined to reclaim her independence, and an attraction that neither of them can deny.
If you like huge, sexy aliens, fated mates, steamy love scenes, and happily ever afters, you'll love this series!
Interracial books relate to relationships, marriages, or dating between distinct races. This is the very adored genre in publications all around the world. The selling of these books is rising day by day. In this genre, you may read about a few love tales, after-marriage things, Relationship tales, etc. The main focus of Interracial romantic publication is on the connection and romantic love between two individuals, and generally has an"emotionally satisfying and optimistic finish." Ordinarily, these kinds of publications are specially written for the 18-40 age group.
Famous Book Quotes
"I lived in books more than I lived anywhere else." ― Neil Gaiman, The Ocean at the End of the Lane
View More