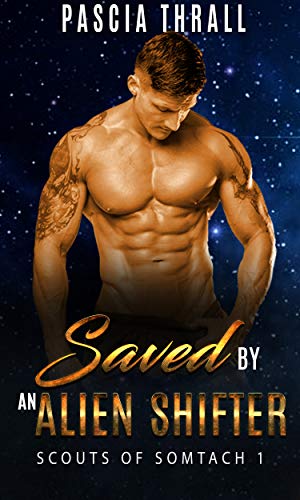 05/16/2022
I thought a zombie apocalypse was bad enough, now I learn aliens are real too?

The last survivor of my group, I'm picking off zombies from the safety of our compound when one of the zombies stops and looks directly at me!

The zombies are mindless. They never see anything.
Somehow this one does, and it's headed straight for me. What choice do I have except to shoot it?
But when my arrow hits, the zombie doesn't die like it should have. Instead there's a burst of blinding light, and when I can finally see again the rotting zombie flesh has turned into shimmering golden skin.

He looks human enough, and he's most definitely male, and he's bleeding purple blood from a wound with my arrow sticking out of it. There's been too much death lately, I can't add him to the count.

But saving him is one thing, falling for him… that's another thing all together.

He's an alien. I can't fall for an alien, can I?

Saved by an Alien Shifter is a stand-alone sci-fi romance novella, the first book of a four book series for adults aged 18+. It contains hot aliens, explicit sex scenes, a teensy amount of gore, and a HEA.

In general, Science fiction or sci-fi, or SF, is a science fiction genre that generally deals with creative and innovative concepts like innovative Science and technology, space exploration, time travel, parallel universes, and extraterrestrial life. Sci-fi books take readers on experiences from faraway galaxies to underwater worlds and anywhere in between, introducing them to otherworldly technologies and characters on the way. So if you are searching for books written by focusing on Science and technology, you must add sci-fi to your reading list as this genre gives you a deep read with a wide range of books.
Famous Book Quotes
"Books are mirrors: you only see in them what you already have inside you." ― Carlos Ruiz Zafón, The Shadow of the Wind
View More