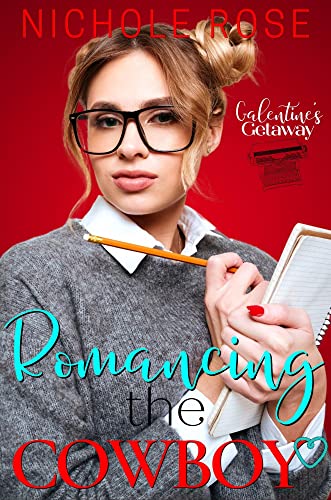 02/14/2022
Spying on a bossy cowboy lands this hot mess romance author in hot water.

Cassia Murphy
I'm used to getting fan mail from readers.
I am not used to being told off by bossy cowboys.
But that's exactly what Cord Decker does when he emails me.
According to him, I know nothing about the cowboys I write.
I'll never admit it to him, but he's right.
Which is exactly why I suggest his hometown for the annual Galentine's retreat.
I can't strangle him in real life.
But no one ever said I can't make him sweat in my next book.
I just have to keep him from figuring out who I really am…
And keep from falling for him and his gruff ways.
Easy peasy, right?
Ha. I'm in way over my head.

Cord Decker
I don't know what prompted me to email Cassia Murphy.
But I can't keep the curvy blonde author out of my head.
I never expected to find her running for her life from one of my bulls.
Didn't expect to fall hard for her smart mouth either.
She thinks I don't know who she is.
She's wrong.
This sassy little romance author is mine.
I plan to teach her everything she needs to know about cowboys…
In bed and out of it.

When this older cowboy rescues a hot mess author from a crazy bull, she learns a whole lot more than she anticipated. If growly cowboys, sassy heroines, and laugh-out-loud comedy make your heart pitter-patter, you'll love Cord and Cassia's steamy-sweet story!

Digital Books

Books in the contemporary fiction genre are composed of stories that may happen to real people in actual settings. The novels don't fall under other genres or categories. They often happen in precisely the same period that the reader is living (the present), with things that are now, or might be occurring, precisely the same period. The contemporary genre also contains conversational and casual dialogue and sometimes even regional dialects. Contemporary fiction novels will provide you a lot of choices to grow your life reading list. Writers, generally speaking, search for what's trending in their own time for their literary work since it lets them illuminate the weakness or strength of the society.
Famous Book Quotes
"Never trust anyone who has not brought a book with them." ― Lemony Snicket, Horseradish
View More