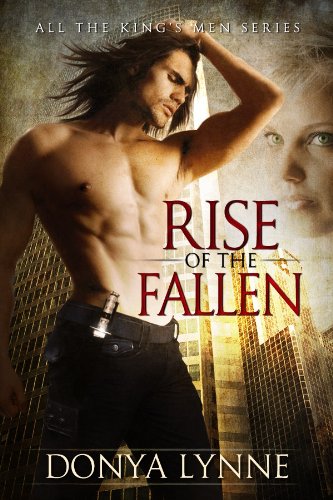 11/04/2022
"If you've been waiting for the next Black Dagger Brotherhood, this is it…" -GraveTells

Micah is a vampire with a bad reputation who has nothing left to live for. Samantha is a feisty exotic dancer in hiding from her abusive ex . . . and she just became Micah's reason to live. Now he'll do anything to protect her, or die trying.

A USA Today Recommended Read.

Ex-Army medic Samantha is on the run from her abusive and controlling ex-husband. To stay off the grid, she lives in a rundown, one-room apartment and works for cash under-the-table as a dancer in a swanky gentleman's club, but she can't shake the fear that at any moment, her ex will find her and drag her back to a life of terror.

Ancient vampire Micah Black is a notorious loner. After a life filled with tragedy and loss, he's grown indifferent to compassion, happiness . . . and love. With nothing left to live for, he's ready to die and enlists an immortal foe who's only too happy to see Micah dead to do the deed.

When Sam inadvertently thwarts the attempt on Micah's life, the unlikely pair become ensnared by an attraction neither can deny. In Sam, Micah finds a reason to live—and love—again, but now that she's put a target on her back, he'll have to pull out all the stops to protect her. With her obsessive ex closing in and an enemy who will stop at nothing to take revenge and finish what he started, are the odds stacked too heavily against Micah? Or will finding something worth fighting for give him the edge he needs to keep Sam alive?

Enter the world of All the King's Men and be ready to hold on to your hat. The action is fast-paced, hot, and the twists and turns will keep you guessing until the very end. And if you're not careful, you might just fall in love and wish these vampires could visit you in the deep, dark hours of night when no one's watching.

USA Today Recommended Read
Gold medalist in the eLit Awards
GraveTells Runner Up for Readers Choice Favorite Story
GraveTells Reviewer Top Pick
Finalist for Parajunkee's Best Adult Book
GraveTells' Reviewers' Choice for Series of the Year

Recommended for fans of J.R. Ward, Lara Adrian, and Gena Showalter.

Books in this series, in reading order:
Rise of the Fallen
Heart of the Warrior
Micah's Calling
Rebel Obsession
Return of the Assassin
All the King's Men - The Beginning
Bound Guardian Angel
BLACK
Micah's Bride
Raven's Gift

NOTE: While this book and the majority of the series revolves around heterosexual relationships, there will be homosexual relationships and graphic content explored in this book and others. The author believes that love is love, and that love comes in all flavors and orientations, especially in the world of vampires. If this isn't your cup of tea, no harm no foul, but this isn't the series for you. I would rather you not buy the books than risk getting a bad review because you didn't like this particular flavor of sauce. Perhaps my Strong Karma, Banger, or Forbidden Flowers Series would be a better fit for you. Thank you.

Famous Book Quotes
"There is no friend as loyal as a book." ― Ernest Hemingway
View More