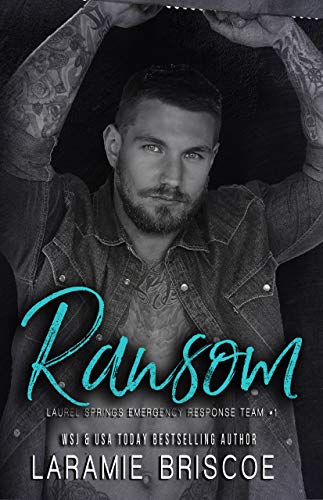 03/10/2022
A new series from the author of the Moonshine Task Force Series!

Laurel Springs, AL is about to be hotter than a mid-August thunderstorm.

When the Moonshine Task Force is absorbed into a new entity, Laurel Springs Emergency Response Team (LSERT) new faces come to town, new love is born, old love is found again, and there's a plethora of drama and romance happening all over the tri-county area. LSERT puts police, firefighters, nurses, doctors, K-9 handlers, and EMT's all in harm's way as they work to keep the area safe from any threat.

Emotions run high, passions ignite.

Come with me, back to Laurel Springs, in what's sure to be a wild ride!

Ransom Thompson

For years I've wanted two things - to be a member of the Moonshine Task Force and to be the man Stella Kepler can't live without.

One out of two isn't bad, or so I tell myself. Being the only K-9 handler for The MTF presents its own share of obstacles, but me and Rambo? We make it work. Life is status quo, until I'm called in to help with what appears to be a hostage situation and Stella is right in the middle of it.

This is my one chance, and I'm not going to blow it.


Stella Kepler

When I'm stuck in an examination room holding a hurt woman and a man with a gun, I do the only thing I can. I sneak out, call 911 and hope help comes quickly. It does.

In the form of Ransom Thompson.

He and I have known each other since we were babies. Our mother's are friends, our dad's work together, and we've always been friends.

Only, the last few months I've started to notice things. How mature he is, how alpha he can be, the chiseled six-pack, and the abundance of ink spreading across his body.

When I offer to cook him dinner for saving me, neither one of us know how that one moment will change the course of the rest of our lives.

New adult fiction is now a growing genre of fiction using protagonists in the 18-30 age bracket. In this genre, the publications are written for the age group of 18-30. New Adult is an emerging marketplace that attracts readers in their late teens and early twenties, which are too frequently missing from the pages of both Young Adult and Adult novels to the forefront. In this category, we generally saw some books on new situations and responsibilities that adults carry with them, how adults overcome their bad situations and some exciting stories that remind us about our adult phase.
Famous Book Quotes
"Many a book is like a key to unknown chambers within the castle of one's own self." ― Franz Kafka
View More