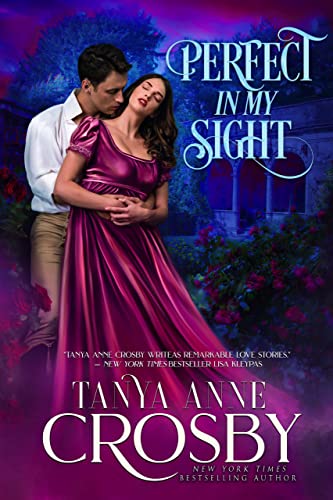 01/21/2022
An RT Book Reviews HISTORICAL MYSTERY of the Year Nominee, Perfect In My Sight is a "a tangy, sensuous historical romance with the added bonus of an excellent, suspenseful plot." [Rendezvous]


What would you do if you believed someone you loved was murdered? Everyone suspected Peter Holland married Sarah Woodard's cousin for her money. Some were certain he killed her for it. Sarah is determined to discover the truth.

Posing as a tutor for Peter Holland's blind son, Sarah suspects the clues to her cousin's murder lay hidden in her missing journals. But her suspicions will either lead her straight to the heart of a doting father... or into the arms of a heartless killer.

---
"Crosby ventures into new territory with an intriguing Victorian Gothic tale that will have readers swiftly turning the pages. Readers looking for a traditional Crosby historical will find a wonderful surprise." — RT Book Reviews
"A tangy, sensuous historical romance with the added bonus of an excellent suspenseful plot with plenty of curves thrown in to keep the reader guessing and an explosive climactic ending." — Rendezvous
"A different but very interesting book… The delicate balance between the mystery and the romance works beautifully…" — Affaire de Coeur
"Crosby's characters keep readers engaged..." — Publishers Weekly
Historical fiction is a literary genre in which the narrative takes place in the past. Historical books capture the particulars of the time as correctly as possible to get authenticities, such as societal norms, ways, habits, and traditions. Historical fiction is put in a real location during a culturally recognizable moment. The facts and the actions from the narrative can be a mixture of real occasions and ones in the writer's creativity as they fill in the gaps. Characters may be pure fiction or based on actual people. But what about them and their look and attitudes, how they talk, and issues that they face, everything which should match the era.
Famous Book Quotes
"That's the thing about books. They let you travel without moving your feet." ― Jhumpa Lahiri, The Namesake
View More