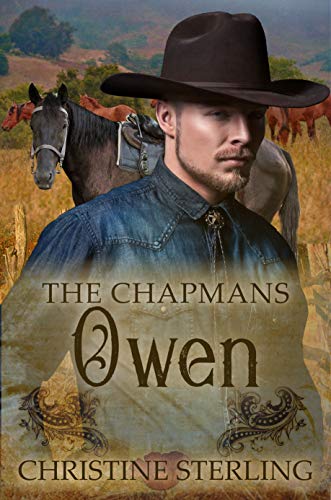 Owen
by Christine Sterling
05/23/2022
Owen Chapman has dreams as big as the Nebraska sky. What happens when a body turns up on the Chapman ranch and the dead man's bride comes calling demanding answers?
Owen Chapman's plans of starting his own horse ranch are finally coming true. With his brothers as his business partners, he knows there is no way to fail. What he didn't expect was a southern belle to arrive and resurrect a ten-year feud that he thought was finally in the past.
Elenore 'Ellie' Brooks longs for marriage, children, adventure and a life out West. When her plans change, she answers an advertisement for a mail order bride. But when she arrives in Flat River, Nebraska nothing is as she imagined and she finds herself pushed off on a local family until she can return home. What she didn't count on was the broody oldest brother and the way he made her question her choices in life.
Can Ellie convince Owen not to send her back home on the next stage leaving town? Will Owen be able to let her go when the dead man's brother comes calling, hoping for Ellie's hand in marriage?
This is book one of a brand new western series from the creator of the Pinkerton Matchmaker. It follows the lives and loves of the Chapman family on the rugged Nebraska Plains during 1872. There are five books in this series. Although there are no cliffhangers in the individual books, they should be read in order for the most enjoyment.

The Chapman Series consists of:

Owen

Oliver
Caleb
Everett
Alice
Join Christine's Newsletter at www.chatsipandread/newsletter to keep informed on this and all upcoming releases. 
If you enjoy stories with strong characters and a bit of romance, scroll up and click Buy Now.
In simple words, the novel penned by a Christian worldview, a way of viewing the world separated through the facts shown in the Bible, is called Christian books. It implies a sovereign God who made everyone and everything; it believes we are responsible to
God
for our decisions, promises, and activities; it feels we require forgiveness and redemption and that it comes only through the person of Jesus Christ. There are two types of Christian Books:
Christian fiction
Christian fiction books are those books that overtly display elements of Christianity in the story, mixing things like prayer, conversion, church.
Christian non-fiction
Christian non-fiction is normally overt in its use of Biblical beliefs to explain an appropriate subject.
Famous Book Quotes
"I do things like get in a taxi and say, "The library, and step on it." ― David Foster Wallace, Infinite Jest
View More