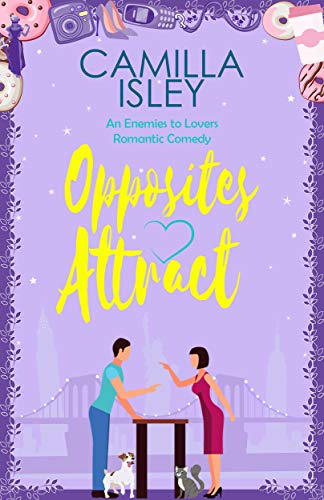 03/24/2022
First law of magnetism: opposite poles attract.
Single mom Vivian has been burned by love once before, and her job as a divorce lawyer has presented enough evidence to convince her there are no good men left in New York City.
The worst offender is her new neighbor: Dr. Lucas Keller, a couple's therapist whose piercing blue eyes and flawless dark hair are just as annoying as his bad temper. And when Lucas starts poaching Vivian's clients by saving their marriages, she makes it her mission to force him out of the building to save her practice.
But it's Lucas who gives her the perfect opportunity when he proposes an unexpected bet. With their offices at stake, Vivian and Lucas play the field of love in a fierce battle of wits that quickly turns hot and personal, especially when Vivian's daughter gets involved. Now, taking down Lucas has become more than business for Vivian. It's become a pleasure—and soon, Vivian and Lucas will realize how pointless it is to fight the laws of attraction.
A fun, neighbors to lovers romantic comedy filled with heart. Be ready to laugh and swoon. Chick Lit Post
Camilla Isley at her very best: funny, touching, and the banter and chemistry between to the two leads is a sheer pleasure to read. Rachel Random Reads
The fast-paced witty romantic disasterly mayhem behind Opposites Attract kept me going, from page one until I was done, and if I could give this battle of wits six stars, I really would! Chick Lit Central
Hilarious, fun read–thoroughly enjoyable! Get ready for laugh out loud encounters. A heartwarming romance to leave you laughing. Splashes Into Books
This is a lighthearted romantic comedy. The battle of wits is full of hilarious twists. The perfect book to escape with. Jane Hunt
Opposites Attract is a fun and warm enemies-to-lovers. A lovely, fun, and witty contemporary romance. Lu Reviews Books
Lighthearted and heartwarming this is a funny and endearing romance. Everywhere and Nowhere
Vivian and Lucas are such opposites that there is plenty of humour to be had, in true romcom fashion. A real cheerer-up of a book. In short: A lively romcom where the sparks fly! Books, Life and Everything
I was wiping tears away, so much was I laughing! This story was not only hilarious, but it was also full of sweet moments! Tizi's Book Review
Fantastically fun, feel good, laugh out loud romcom! Berit Talks Books
A hate to love trope done really well. Proud Book Reviews
A romantic, fun filled book. With a multitude of hilarious dates. Camilla Isley at her comedic best–I was laughing out loud! The Comfy Chair
Camila Isley has got to have the best meet cutes ever! I just love reading romcoms where I get to experience the characters' perspectives and this was so delightful, funny, cute and so uplifting. Nurse Bookie
Comedy, word play and slapstick. Uplifting, heartwarming and laugh-out-loud funny. Ceri's Lil Blog
A delight to read with a lot of laugh out loud moments. Opposites At
Digital Books

A clean love is simply a means to spell out a love story that will not include explicit sex, excessive gore and violence, and profanity. The category is started by amazon. This new category helps readers that desire the love and emotion without particulars of this romantic bedroom kitchen/car/outside / etc.--gymnastics to discover exactly what they're looking for. You may read this book with your family. This class is specially created for readers that are uncomfortable reading fantasy books with sexually explicit material, an excessive amount of blood and guts, and a lot of f-bombs.
Famous Book Quotes
"A room without books is like a body without a soul." ― Marcus Tullius Cicero
View More