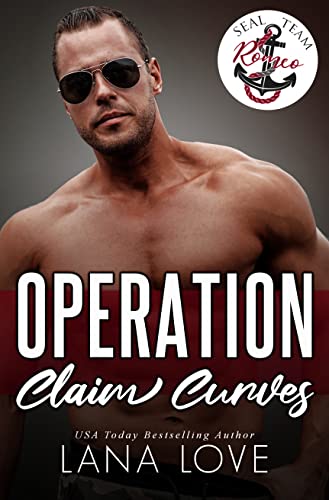 05/24/2022
One returning Navy SEAL + The curvy babe who got away = A second chance for this Officer to claim the woman he's always loved
We're a tight-knit family, my SEAL brothers and me. But what's missing in my life is a wife.


When I hear Ginger Weber is moving back home, to the same city as our training HQ, nothing in my life has ever been so clear. Move home, take the job the Navy has been after me to take, and then claim my best friend's gorgeously curvy sister.

When I reconnect with Ginger, it's more than I ever imagined it would be. But she has a rule -- she doesn't date Navy men.

After a hot night with her, I know there'll never be a woman that even compares to how I feel for her. It's going to take some damn hard work to win her over, but there's not a challenge she can throw at me that I won't take. Sure as I love and defend my country, Ginger will be mine.

Operation Claim Curves is a short and sizzling romance, perfect for a pick-me-up during your day or just before bed. Guaranteed HEA, no cheating, no past relationship drama -- just two people discovering their perfect match and starting a sizzling future together.

Meet the men of SEAL Team Romeo. At work, these warriors serve their country, protect the innocent, and generally kick ass. No matter the challenge, or the danger, they always have each other's six. They've been too busy saving the world to find love. Until now.

While on leave, each of them is about to meet their match. These SEALs fight hard...and love harder. Whether she's the girl next door or the one that got away, when the right girl captures a Romeo's heart, she's his for life.

Get ready to fall for SEAL Team Romeo in this series of short and steamy romances, coming in May from some of your favorite instalove authors.

Books in the contemporary fiction genre are composed of stories that may happen to real people in actual settings. The novels don't fall under other genres or categories. They often happen in precisely the same period that the reader is living (the present), with things that are now, or might be occurring, precisely the same period. The contemporary genre also contains conversational and casual dialogue and sometimes even regional dialects. Contemporary fiction novels will provide you a lot of choices to grow your life reading list. Writers, generally speaking, search for what's trending in their own time for their literary work since it lets them illuminate the weakness or strength of the society.
Famous Book Quotes
"Science and religion are not at odds. Science is simply too young to understand." ― Dan Brown, Angels & Demons
View More