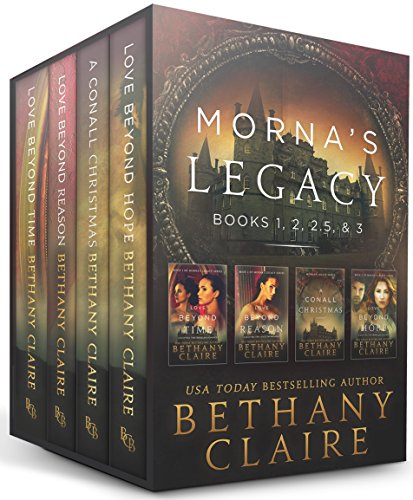 08/09/2022
"I have a thing for sexy highlanders (who doesn't?!), but not everyone is able to get it right - Claire is bang on... I haven't enjoyed myself reading a book this much in ages. I actually sat down to start reading it and didn't stand up again until I was finished - I had to know how it ended. This book gets 5 hunky Scotsmen out of 5." - Chelsey of Pure Textuality
This Morna's Legacy Collection contains the following books:
LOVE BEYOND TIME – BOOK 1:
When Texas Kindergarten teacher, Brielle Montgomery accompanies her archaeologist mother on a dig in Scotland, they discover a secret spell room below the castle ruins. Bri finds herself transported back in time and suddenly married to the castle's ill-fated Laird. Now, she must work to change the fate of his people, not only to save herself, but to rescue the man she's come to love.
LOVE BEYOND REASON – BOOK 2:When the only woman to ever steal Arran Conall's heart falls prey to ancient magic, she is transported to a time centuries ahead of him. Believing she is gone forever, he marries another to save her from an evil suitor, but his love for Blaire haunts him. Hundreds of years in the future, Blaire MacChristy lives each day adjusting to modern life. When visitors from her past arrive asking her to return, Blaire takes a chance on love. Will fate find a way to mend their broken hearts? Will they be able to stop the darkness that is coming for them both?
A CONALL CHRISTMAS - A NOVELLA – BOOK 2.5: Christmas is approaching, and Adelle is determined to make it the best one Conall Castle has ever seen, but loneliness haunts her. Hew Moray has spent the last twenty years all alone. When a storm causes him to seek shelter at Conall Castle, he meets the first lass since the death of his wife to make his heart flutter in his chest once again. Can he release himself from his past grief to allow another love to enter his life? If he does, will his love be returned?
LOVE BEYOND HOPE – BOOK 3:After Mitsy's divorce, she flies to Scotland to forget about her own problems by helping her best friend. She finds few who know how to take her fiery personality in the seventeenth century, but she finds her match in Baodan, laird of McMillan Castle. The more time she spends with him, the harder she falls, but a dark secret from Baodan's past holds him back. Mitsy works to uncover the truth in the hopes that resolution will free him. But the truth is darker than she expects, and it threatens to destroy them both.
Read all the books in
Morna's Legacy Series

:

Love Beyond Time (Book 1)

Love Beyond Reason (Book 2)

A Conall Christmas - A Novella (Book 2.5)

Love Beyond Hope (Book 3)

Love Beyond Measure (Book 4)

In Due Time - A Novella (Book 4.5)

Love Beyond Compare (Book 5)

Love Beyond Dreams (Book 6)

Love Beyond Belief (Book 7)

A McMillan Christmas - A Novella (Book 7.5)

Love Beyond Reach (Book 8)

Morna's Magic & Mistletoe - A Novella (Book 8.5)

Love Beyond Words (Book 9)

Love Beyond Wanting (Book 10)

The Haunting of Castle Dune - A Novella (Book 10.5)

Love Beyond Destiny (Book 11)

Love Beyond Boundaries (Book 12)
Famous Book Quotes
"Think before you speak. Read before you think." ― Fran Lebowitz, The Fran Lebowitz Reader
View More

Featured Author
Discover Romance Books You'll Love!