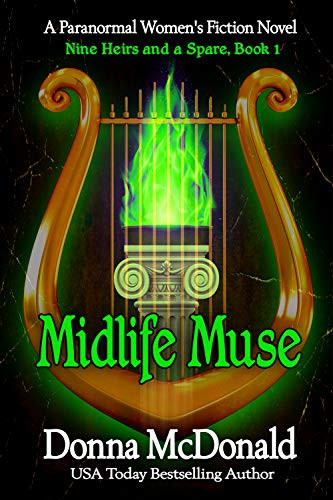 07/31/2022
Midlife Muse is a paranormal women's fiction novel and a new action and adventure tale from USA Today Bestselling Author, Donna McDonald.

I may look like a 40-year-old woman, but inside I'm a goddess.

My name is Goddess Atlanta. Haven't you heard of me? No? Bet you've heard of my twin sister, Athena, the Goddess of War. Sure. Everyone's heard of her.

Shunned by my birth family, I grew up with the Muses as sisters and friends. Being a Muse sucked, though, and I failed at inspiring others.

What can I say? Being a warrior is the song that sings in my blood. Just hand me a sword and move back while I call down lightning. Be careful though because my aim's not what it used to be. Becoming a 40-year-old and mostly mortal woman has taken a toll, especially on my knees.

Because of my father, my entire pantheon is also mortal and dying. I have to find a worthy champion to help me save us all. Failure is not an option no matter how old or mortal I get.

My name is Atlanta, Goddess of the Doomsday Prophecy. And this is my Mortal Midlife Story.

WARNING: This new story is both paranormal (think Trolls, Pegasi, and Dragons) and women's fiction (think about growing older). Some fantasy and romantic elements are also included. This is the first book in my new series, Nine Heirs and a Spare, which has its roots in Greek mythology. You can count on the good guys winning some of their battles, but that's the only promise I can make. As with all my writing, there will also be lots of laughs along the way.

Famous Book Quotes
"Books are the mirrors of the soul." ― Virginia Woolf, Between the Acts
View More