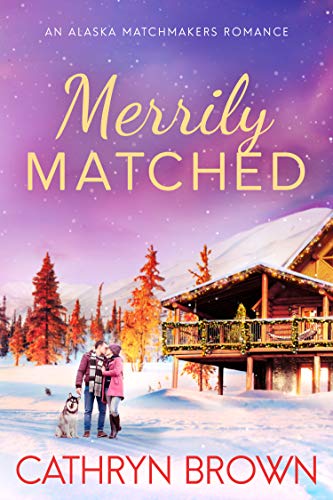 12/11/2022
Her Christmas season is well planned. A dog and a matchmaker ignore that plan.
Molly's holiday season will be drama free. Nothing except working at her busy bakery in Homer, Alaska, so she can save money. Because she's failed at romance in the past, love isn't on her schedule. Neither is the dog she adopts—and has no idea how to take care of.
Joe just moved to this small town to set up a veterinary practice. His soft spot for animals—and pretty bakers—brings his path and Molly's together. He may be interested in a future with her, but she keeps pushing him away.
A matchmaker has ideas of her own to make sure these two have a happily ever after.
If you enjoy stories with dogs, matchmakers, and sweet romance, you'll love Merrily Matched. Start reading now to add some Christmas happiness to your day.
This is a standalone book and also book 3.5 in the Alaska Matchmakers series. The author is from Alaska, so she knows the real Alaska.
Alaska Dream Romances
Falling for Alaska - Jemma & Nathaniel
Loving Alaska - Bree & Michael
Merrying in Alaska - Leah & Ben
Crazy About Alaska - Holly & Adam
Alaska Matchmakers Romances (Adam's Brothers)
Accidentally Matched - Noah & Rachel
Finally Matched - Mark & Maddie
Hopefully Matched - Jack & Aimee
Merrily Matched - Joe & Molly
Surprisingly Matched - Andy & Samantha
Famous Book Quotes
"There are worse crimes than burning books. One of them is not reading them." ― Joseph Brodsky
View More