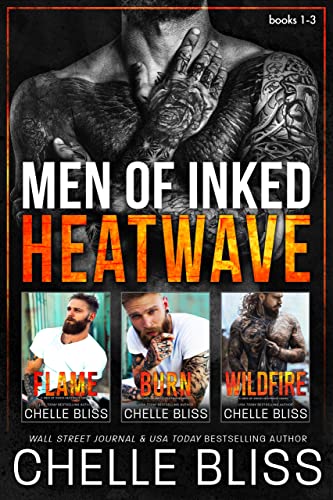 11/22/2022
The Men of Inked Heatwave is a boxset of the first three books in the USA Today bestselling Men of Inked Heatwave series. Join the Gallo family as they search for love...
Flame(Book 1) - Gigi Gallo's childhood was filled with the roar of a motorcycle and the hum of a tattoo gun. Fresh out of college, she never expects to run into someone tall, dark, and totally sexy from her not-so-innocent past.
Burn(Book 2) - Gigi Gallo thought she'd never fall in love, but then he rode into her world covered in ink and wrapped in chaos. Pike Moore never expected his past to follow him into his future, but nothing stays hidden for long.
Wildfire (Book 3) - Tamara Gallo knew she was missing something in life. Looking for adventure, she takes off, searching for a hot biker who can deliver more than a good time. But once inside the Disciples MC compound, she gets more than she bargained for.
The Men of Inked Heatwave series is filled with protective men, sassy women, and lots of heat. Get lost in the wildly popular family saga featuring tattooed bad boys, rowdy and lovable bikers, family dinners, and so much more.
Famous Book Quotes
"I lived in books more than I lived anywhere else." ― Neil Gaiman, The Ocean at the End of the Lane
View More