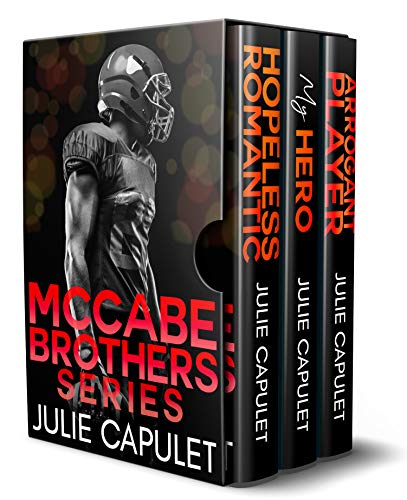 05/20/2022
Three alpha brothers. Three hot romances.
This box set contains three super-sexy stories, each with its own OTT romantic feel-good epilogues. More than 125K words of page-turning steamy romance.
Hopeless Romantic
Quarterback Bo McCabe stops playing in the middle of a game to stare at the shy, beautiful "Jumbotron Angel." But who is she? Bo will stop at nothing to find out if she's the one he's been saving himself for all along. But it won't be easy, especially when his quest goes viral.
My Hero
Combat hero Caleb McCabe just returned from a tour of duty in Afghanistan. He feels like an outcast in civilian society. When he meets a gorgeous, fun-loving psychology student named Violet, he knows he can't handle a relationship, especially with a golden girl like her. But no matter how hard he fights his obsession, he can't stop himself. He knows in his heart she's the one. But will Caleb's dark damages get in the way of their HEA?
Arrogant Player
Gage McCabe used to be a playboy. Until he meets the one woman he can't have. Now he'll do anything to get her where he wants her …
Books in the contemporary fiction genre are composed of stories that may happen to real people in actual settings. The novels don't fall under other genres or categories. They often happen in precisely the same period that the reader is living (the present), with things that are now, or might be occurring, precisely the same period. The contemporary genre also contains conversational and casual dialogue and sometimes even regional dialects. Contemporary fiction novels will provide you a lot of choices to grow your life reading list. Writers, generally speaking, search for what's trending in their own time for their literary work since it lets them illuminate the weakness or strength of the society.
Famous Book Quotes
"but for my own part, if a book is well written, I always find it too short." ― Jane Austen
View More