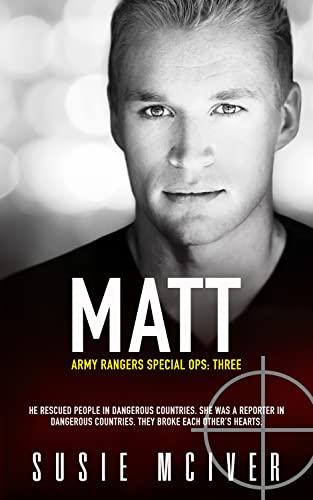 04/23/2022
Matt Grey excels at many things, but relationships aren't one of them. As a former Army Ranger Special Ops team member and current attorney, he has enough tools in his arsenal to get through almost anything, except heartache after the only woman he ever loved leaves him.
Lara West has seen it all. As a tough-as-nails journalist, she made it her mission to expose the world's atrocities and make sure the world knew what the US government didn't want them to know. Her life had purpose. Her heart was full. She had the man of her dreams… until she received evidence that Matt wasn't the man she thought he was. She turned her heartache into action and now devotes her life going undercover in dangerous places to share the plight of those who are abused, malnourished, and mistreated.
When Lara finds herself in the crosshairs of a fight she can't win alone, Matt, who now works for a private security agency made up of other former Army Special Ops Rangers, must come to the rescue. With everything on the line, will these former lovers work together to save themselves or will their past come back to haunt them?

The military is a genre of fiction focusing on military actions, such as warfare, conflicts, battle, fighting, or army life. For example, the military genre can include an autobiography of a member of army personnel who did amazing things or decided that changed the tide of a war utilizing the new or radical military plan. Another autobiographical example maybe a president or other leader (based upon the country) who had been involved in political relations which started or finished a war with something of a military foundation or plan. The military genre may also have novels about weaponry or equipment.
Famous Book Quotes
"A room without books is like a body without a soul." ― Marcus Tullius Cicero
View More