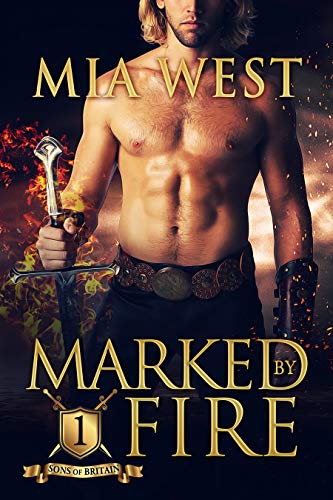 03/08/2022
When two warriors collide in secret, no legend is set in stone.

Eighteen-year-old Arthur burns for two things: a warrior's ink, and Bedwyr, his older brother's shieldmate.

Though the warlord's son is beyond his reach, a Saxon incursion finally brings Arthur's chance at the tattoo that will brand him a fighter.

But when he abandons his training in the heat of battle, his reckless ambition costs Bedwyr his sword hand.

+

Once, Bedwyr trusted in two things: he was a warrior, and the presumed heir of Uthyr.

Now, reeling from injury and sent away by his father, he's lost everything. The last person he wants to see is the cub who ignited his disastrous instinct to protect.

Especially when he arrives with Bedwyr's armor and a dangerously hopeful scheme to restore him to his rightful place.

+

MARKED BY FIRE is the 1st novel of the SONS OF BRITAIN series.

Tropes: forced proximity, hurt/comfort, older brother's best friend, virgin hero

Content Notes: violence, graphic injury/treatment, death (battle context)

Edition Note: This title was originally published in 2016 as a novella. The author has significantly expanded the story for republication.

SONS OF BRITAIN series
They're a long way from legendary. Amid the volatility of 6th-century Britain, Arthur and Bedwyr are just two young men, born to fight and bound to their warlord by blood and oath. But when fierce hearts collide, loyalties can shift, creating bonds far stronger—and ideas far riskier—than their world may be ready for.

Gay pulp fiction or homosexual pulps refers to published works, chiefly fiction, that comprise references to male homosexuality, especially male homosexual sex, and finely produced, commonly in paperback publications made from wood pulp paper; lesbian pulp fiction is comparable work about girls. LGBT topics in Hindu Epics involve Hindu divinities or characters whose characteristics or behavior can be translated as lesbian, homosexual, bisexual, transgender, or gender change and non-heterosexual sexuality. We all deserve to see that our lived experiences are reflected from the pages of a great publication. And like the rest of the literary canon, LGBTQ novels arrive in all genres.
Famous Book Quotes
"A good book is an event in my life." ― Stendhal, The Red and the Black
View More