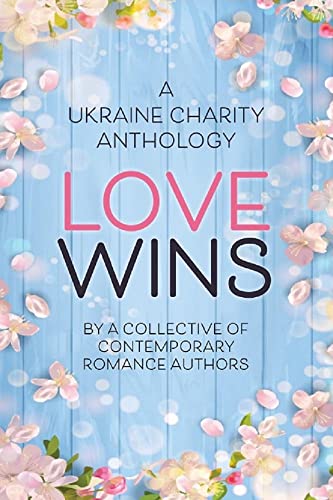 04/04/2022
LOVE WINS—a Charity Anthology to support Ukrainian refugees
We realize that other Ukraine charity anthologies have already been published or are on pre-order, and we're not trying to compete. We're just a group of over 15 romance authors who want to do something to help and who haven't participated in one of the collections already out there. It's like the saying "write the book you've always wanted to read," so we've created the charity project we want to be a part of – a unique collection of stories, covering an assortment of different sub-genres and tropes.

We're contributing 100% of the proceeds to World Vision's Ukrainian Refugee Aid Fund. This organization has people on the ground in the Ukraine and Romania, providing food, shelter, medical aid, and all necessary assistance for the needy, with the focus of making sure children are safe and provided for.

LOVE WINS is available for a limited time only. Make a difference for the people of Ukraine — get your copy today!

Authors include: Dania Voss, Maribelle McCrea, Marlene Cheng, K.M. Jenkins, Deborah King, Annie McEwen, Pamela Clayfield, Tiffany Carby, Aimee O'Brian, R.A. Clarke, N.N. Light, Judy Fisher, Robert Beech, E.J. Powell, Alex Grehy, Maris Parker

THANK YOU so much for supporting those in need.

Books in the contemporary fiction genre are composed of stories that may happen to real people in actual settings. The novels don't fall under other genres or categories. They often happen in precisely the same period that the reader is living (the present), with things that are now, or might be occurring, precisely the same period. The contemporary genre also contains conversational and casual dialogue and sometimes even regional dialects. Contemporary fiction novels will provide you a lot of choices to grow your life reading list. Writers, generally speaking, search for what's trending in their own time for their literary work since it lets them illuminate the weakness or strength of the society.
Famous Book Quotes
"The world was hers for the reading." ― Betty Smith, A Tree Grows in Brooklyn
View More