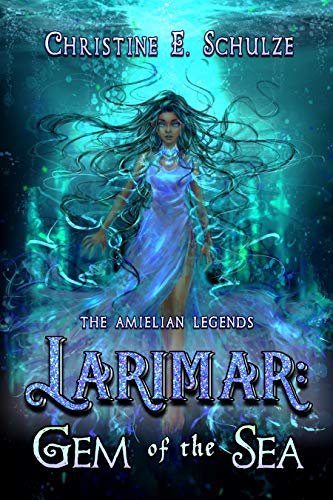 08/21/2022
A fearless captain and a mysterious girl who walks on water. An underwater city and a destined deadly curse. What could possibly go wrong?
Captain Jorah is notorious for being one of the youngest explorers to ever sail Zephyrian waters. He's also notorious for landing his crew in situations they hadn't counted on—situations involving man-eating mermaids and other dangerous misadventures.
When Jorah decides to search for the legendary underwater City of Larimar, he doesn't account for the quest that follows. Rescued from shipwreck by a mysterious young lady who walks on water and carries a singing seashell around her neck, he soon finds himself reunited with an old friend once thought lost to him. Before he knows it, he's caught up in a race against time to save her yet again, this time from a looming prophecy about a deadly serpent destined to consume her entire race.
Can Jorah help the girl save her people before the dark prophecy can complete itself?
The Amielian Legends is a collection of stand-alone young adult books, all set in the same fantastic universe, that can be read in any order. Read Larimar: Gem of the Sea and dive into new worlds filled with new adventures today!

What Readers Are Saying
"This story was beautiful, a little dark, and magical. I loved all of the elements that were incorporated into the telling, and I highly recommend reading this. It was completely original and extraordinary."
~ Jennifer R Ricketts, Goodreads
"…it was truly a fascinating tale. Adventure into a mythical land for a friend he made long ago, this hero shows just how noble one can be and how strong friendships are, no matter the amount of years gone by."
~ Alegna, Goodreads
"Christine Schulze spins a delicious fairy tale that will be enjoyed at any age."
~ Linda, Goodreads
"I absolutely loved this short story."
~ Jessica Dmitru, Goodreads
Famous Book Quotes
"A book must be the axe for the frozen sea within us." ― Franz Kafka
View More