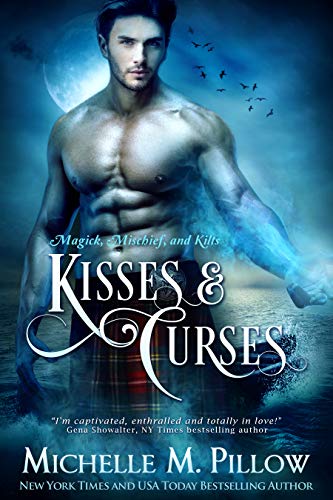 03/01/2022
"Michelle M. Pillow is an incredible talent! No matter the genre she writes, I'm captivated, enthralled and totally in love. She is not to be missed!" - Gena Showalter, New York Times bestselling author
"Michelle M. Pillow weaves a story so engrossing that I lose track of time while reading and think about the characters long after I'm done." - Mandy M. Roth, New York Times bestselling author
Magic, Mischief & Kilts!
A modern-day Scottish warlock paranormal romance by NYT Bestselling Author Michelle M. Pillow.
From the Highlands of Scotland to the valleys of Wisconsin...​
Scottish Warlock Euann MacGregor may be the tech savvy one in his family, but when it comes to love, savvy doesn't enter into the equation. So when he crosses paths, in the most unusual way, with a woman who holds an essential piece to a puzzle that has haunted the MacGregor family for decades, he's torn between wanting answers and wanting her. Forces beyond his control have brought them together, but those same dangers might also be what tears them apart forever.
Warning: Contains yummy, hot, mischievous MacGregors who are almost certainly up to no good on their quest to find true love. And Uncle Raibeart.
A Warlocks MacGregor Novel
Contemporary Scottish Magic Paranormal Shifter Romance
In general words, the paranormal literary fiction genre comprises beings and happenings beyond the world of normal scientific comprehension of the natural world. Novels in the fiction genre are all put in the actual world. However, they comprise experiences that defy scientific explanation. For instance, stories put on earth contain angels, demons, witches, psychics, witches, etc. If you love to read some books with ghosts and angels, you must add this category to your reading list. Many books available in the market come under the Paranormal Genre, and you can buy them online or offline.
Famous Book Quotes
"The world was hers for the reading." ― Betty Smith, A Tree Grows in Brooklyn
View More