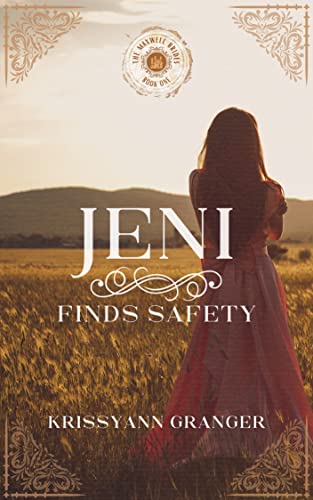 04/02/2022
A mail-order bride shouldn't have to trap a man.
Jeni MacGregor fled from Massachusetts to Montana to marry Scott Maxwell. Being a mail-order bride had to be better than staying behind, where a violent suitor won't take no for an answer.
When Scott refuses to marry her, without explanation, she's left desperate in a town full of strangers—and she's running out of time. Her only solace is that Scott puts her under the protection of the fearless men of The Maxwell Group, with his cousin Caleb as her personal bodyguard.
When her past catches up with her, Jeni has a hard decision to make.
Will she marry or take her chances on the run?




Don't miss the rest of the series:
Sarah Finds Freedom
Abigail Finds Peace
Maggie Finds Clarity
Opal Finds Purpose
Available on Kindle Unlimited now!


Reviews:
Beautiful romance!
"This is a gorgeously written romance novel that gave me all the feels! I was immersed in the story from the very beginning. The plot twists made it hard to put down, and the cliffhanger has me excited to check out the next book. I highly recommend this author!" Gina, Amazon review.
I fricken love this book
"I absolutely loved this book. It has an amazing plot line and leaves an epic cliffhanger for the next book in the series. I cannot wait to read the next book.
I started reading and couldn't put it down until I was finished, its that good!" Heather Hyden, Kindle reader.
Loved it
Historical fiction is a literary genre in which the narrative takes place in the past. Historical books capture the particulars of the time as correctly as possible to get authenticities, such as societal norms, ways, habits, and traditions. Historical fiction is put in a real location during a culturally recognizable moment. The facts and the actions from the narrative can be a mixture of real occasions and ones in the writer's creativity as they fill in the gaps. Characters may be pure fiction or based on actual people. But what about them and their look and attitudes, how they talk, and issues that they face, everything which should match the era.
Famous Book Quotes
"If you have enough book space, I don't want to talk to you." ― Terry Pratchett
View More