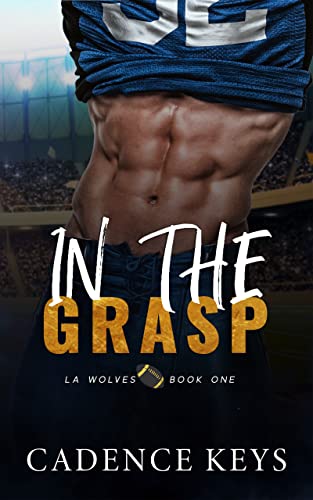 01/26/2022
Jack
I'm at the top of my game, and the most notoriously private player in the league, but my personal life leaves something to be desired. I thought I'd have more accomplished by now - like a wife and family - but for nine years I've held onto the memory of the girl who got away. Now she's back and I'm more determined than ever to make her mine. For good this time.

Paige
After years of working tirelessly, I just landed my dream job at the largest newspaper on the west coast. Unfortunately, that lands me in the same city as the man who broke my heart nearly a decade ago - the same one I've never really been able to let go of. When my editor assigns me to write an exposé on Jack, I'm forced to decide where my loyalties lie - with the career of a lifetime, or the love of my life.

In the Grasp is the first steamy standalone contemporary sports romance in the LA Wolves series.

Books in the contemporary fiction genre are composed of stories that may happen to real people in actual settings. The novels don't fall under other genres or categories. They often happen in precisely the same period that the reader is living (the present), with things that are now, or might be occurring, precisely the same period. The contemporary genre also contains conversational and casual dialogue and sometimes even regional dialects. Contemporary fiction novels will provide you a lot of choices to grow your life reading list. Writers, generally speaking, search for what's trending in their own time for their literary work since it lets them illuminate the weakness or strength of the society.
Famous Book Quotes
"I guess there are never enough books." ― John Steinbeck, A John Steinbeck Encyclopedia
View More