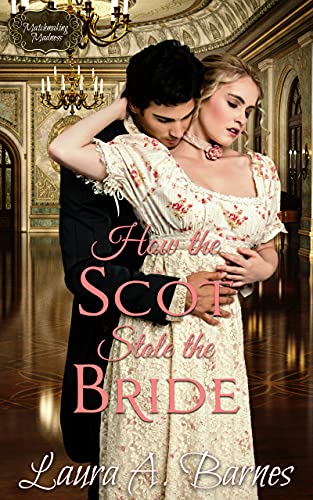 02/27/2022
When fate opens a door, one must …
She was destined to become a Duchess. He wanted to claim her for himself. Before the wedding vows are spoken, can they explore the depths of their attraction?
Selina Pemberton's father arranged for her to marry a duke's son when she was a young girl still in the nursery. Their marriage would unite two dukedoms and lay the foundation for a powerful dynasty. However, he wasn't the gentleman who starred in her fantasies. No. The honor went to the groom's cousin. A most maddening Scotsman. He irritated her with his teasing and the nickname Duchess he bestowed on her. Yet his kisses ignited a passion that soothed her soul. Every stolen moment with him tempted Selina to defy her father's demands. Can Selina change the course of her destiny? Or is she destined for a marriage of loneliness?
There wasn't a lass who didn't find Duncan Forrester charming. With the exception of his cousin's bride to be. A lady who had stolen his heart. He shouldn't give into his temptation to seduce her, but her vulnerability kept drawing him under her spell. He wished to steal her away to Scotland. When Selina finally opened her heart to him, Duncan thought they would spend their lifetime loving each other. However, his uncle had other plans. He forced them apart, leaving Duncan struggling to win Selina's affection. When he caught her sharing a kiss with his cousin, Duncan realized he must confess of his love. Can Duncan convince Selina of his undying devotion? Or would he allow other forces to keep them apart?
A lady whose greatest wish was to feel loved. A gentleman whose greatest wish was forbidden. Would these two fall victim to a lost courtship? Or would Selina and Duncan succumb to scandalous temptation?
If you enjoy an emotional romance filled with passionate scenes, then you'll love Selina and Duncan's gripping love story.
Spoil yourself with How the Scot Stole the Bride today!
Historical fiction is a literary genre in which the narrative takes place in the past. Historical books capture the particulars of the time as correctly as possible to get authenticities, such as societal norms, ways, habits, and traditions. Historical fiction is put in a real location during a culturally recognizable moment. The facts and the actions from the narrative can be a mixture of real occasions and ones in the writer's creativity as they fill in the gaps. Characters may be pure fiction or based on actual people. But what about them and their look and attitudes, how they talk, and issues that they face, everything which should match the era.
Famous Book Quotes
"The library is inhabited by spirits that come out of the pages at night." ― Isabel Allende
View More