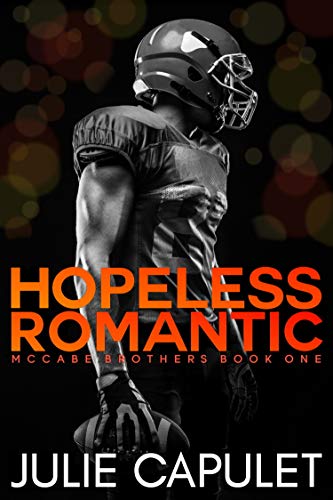 05/27/2022
When he falls, he falls

 

hard.
Millie Baylin just moved to a new city to start college. Introverted and studious, she plans on spending most of her time holed up in the library working on her novel and keeping to herself. But when she gets dragged along to a school football game by her fun, football-mad new roommate, the hot alpha quarterback almost drops the ball at his very first sight of her.
Bo McCabe is saving himself. A hopeless romantic at heart, he's holding out for the real thing. As soon as he lays eyes on the shy stranger with the striking gray eyes and the angel's face, he'll stop at nothing to find out if she's the one he's been waiting for all along. Millie thinks Bo's insta-obsession is insanity and wants nothing to do with him. But Bo is determined. Because, somehow, Millie has already stolen his heart ... and he is now utterly obsessed with winning hers.
Can Bo convince Millie he's the man of her dreams?
Hopeless Romantic is a sexy standalone novella, starring an obsessed hero and the love of his life (includes three hopelessly romantic HEA epilogues!). This book is a tribute to love at first sight and insta-everything (because it happened to me :).
Book #1 in the McCabe Brothers series
Books in the contemporary fiction genre are composed of stories that may happen to real people in actual settings. The novels don't fall under other genres or categories. They often happen in precisely the same period that the reader is living (the present), with things that are now, or might be occurring, precisely the same period. The contemporary genre also contains conversational and casual dialogue and sometimes even regional dialects. Contemporary fiction novels will provide you a lot of choices to grow your life reading list. Writers, generally speaking, search for what's trending in their own time for their literary work since it lets them illuminate the weakness or strength of the society.
Famous Book Quotes
"If a book about failures doesn't sell, is it a success?" ― Jerry Seinfeld
View More