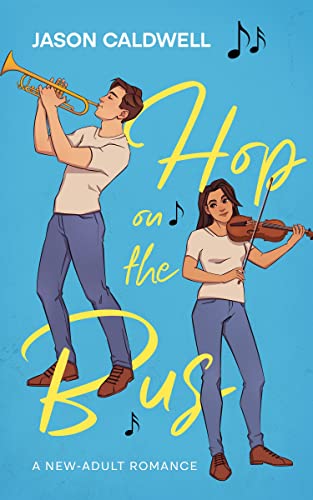 02/18/2022
Gus has big dreams. A gifted musician, he wants to join the elite Marine Drum and Bugle Corps and follow in the footsteps of his father and grandfather. But for a young man of limited means, getting a musical arts degree can be difficult.
Reaching out to Shannon, a popular and talented violinist, he asks if he can join her when playing charity gigs. Soon, scholarships and grants seem possible. Being on the autism spectrum has led Gus to being cautious when reaching out. He wants more from their relationship, but is shackled by self-doubt.
Will Gus overcome his self-doubt and try to build a relationship with Shannon?
Read Hop on the Bus and get lost in the music today!
2020 Readers Choice Romance of the Year - Sun Lane Media

2020 Romance of the Year - World Literature Publishing
Digital Books

New adult fiction is now a growing genre of fiction using protagonists in the 18-30 age bracket. In this genre, the publications are written for the age group of 18-30. New Adult is an emerging marketplace that attracts readers in their late teens and early twenties, which are too frequently missing from the pages of both Young Adult and Adult novels to the forefront. In this category, we generally saw some books on new situations and responsibilities that adults carry with them, how adults overcome their bad situations and some exciting stories that remind us about our adult phase.
Famous Book Quotes
""Reading one book is like eating one potato chip."" ― Diane Duane, So You Want to Be a Wizard
View More