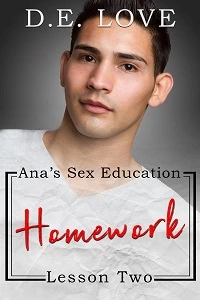 04/22/2022
Rodrigo had passed the first lesson...

...of Ana's Sex Education 101.

Now he has homework to complete. Anatomy. Erogenous zones. He craves more of Miss Romani, but he also has feelings for Olivia Perez: cheerleader, prom Queen, most popular girl at Roosevelt High, and once, his best friend.

She won't have anything to do...

...with Rodrigo though...

...and he doesn't understand why. He has so much to learn to understand what women want

Olivia Perez has a dream life. She's smart, popular, and beautiful. She dates the best athlete at the school, but Hector Cruz expects more than she is willing to give. Will her dream life fade if she doesn't give in?

Anabella Romani suddenly has a problem...

...and her desire for Rodrigo isn't helping.

Homework though requires testing, so when Anabella creates a pop quiz for Rodrigo, things really get hot. Pass the pop quiz and Rodrigo gets his greatest desire. Will he be up for the task?

Rodrigo still has a lot to learn and a lot of emotions to navigate before he can really understand sex and love and lust. So he has to do his homework.

You'll adore Lesson Two in this erotic novelette series, because who doesn't love homework when that homework involves love and lust.

Get it now.

Erotic romance books are stories written concerning the growth of a romantic relationship through sexual interaction. Sex is an intrinsic part of the narrative, character development, and relationship development and may not be eliminated without damaging the narrative. To put it differently, it is fun, it's hot, and it could be prestigious. This means, where else can you spot sexy billionaires, rough war heroes, teachers that do not mind giving you D jokes. If you are passionate about your partner or love to read others' passionate sex or love story, then you should add this genre to your reading list. Here are some amazing erotic romance books online that you might like to read.
Famous Book Quotes
"The world was hers for the reading." ― Betty Smith, A Tree Grows in Brooklyn
View More